On the 10th of September in London, Spink will be selling one of the finest collections of British East Africa and 1898-1902 Uganda issues ever formed.

George T. Krieger is a philatelist and photographer living in California. He has published over 50 philatelic articles and has won numerous significant awards for his remarkable collections. His British East Africa and Uganda collection includes some great rarities.

For example, an 1890 Eastern Telegraph Company Limited printed envelope registered from Mombasa to London. It is considered one of the most important British East Africa Covers known.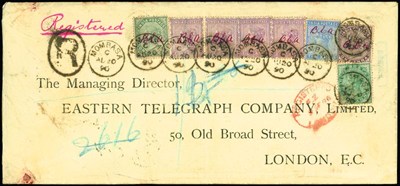 Above: Lot 8

The envelope has a unique and colourful franking of Indian stamps used in Mombasa, being the record equalling earliest recorded date of the six covers recorded during this first period of use.

The massive, globe-spanning Eastern Telegraph Company was at this time laying an underwater cable between Mombasa and Lamu, having previously completed a cable link between Zanzibar and Mombasa, a notable achievement in the history of Submarine Telegraphy.

This Eastern Telegraph Company envelope is estimated to sell for £28,000-30,000.

Also going under the hammer in this auction is an important and valuable 1891 Mombasa Provisional Cover.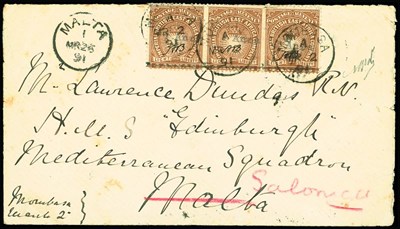 Above: Lot 80
The envelope was sent from Captain F.G. Dundas of the Royal Navy to his son, a midshipman on H.M.S. Edinburgh, which was docked at Malta but departed before the envelope could reach him. It was subsequently redirected to him at Salonica.

The envelope shows the first recorded use of the 1891 Mombasa Provincial hand-stamped 1 "Anna" on 4 "Annas". The estimate is £35,000-40,000.

The sale will also include imperforate and part perforated pairs and blocks from the 1890-95 issue, 1891-95 Provisionals, "On India" issue, later issues, and Uganda with essays, proofs, colour trials and a wide range of important covers.
Click here to view the lots or download a PDF of the catalogue.
For further press information, please contact: Eleanor Ball, Email: [email protected] or Telephone: +44 (0)20 7563 4009. All images copyright Spink.
Click here for more information on Spink Chairman and CEO Olivier D. Stocker