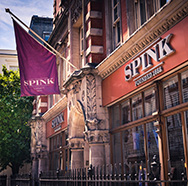 Spink UK
67-69 Southampton Row
Bloomsbury
WC1B 4ET
London
Opening hours: Mon-Fri, 09:30 to 17:30
The London office will be closed from 3.00 pm on 24th December 2018.
We will re-open on Wednesday 2nd January 2019.
Email: concierge@spink.com

Tel: +44 (0)20 7563 4000
Fax: +44 (0)20 7563 4066
Spink and Son Ltd was founded in London in 1666 and has since developed into the world's premier collectables auction house. It specialises in the auctioning and private sales of stamps, coins, banknotes, medals, bonds & shares, autographs, books and fine wines.

Forthcoming Auction
The Philatelic Collectors' Series Sale
Spink UK
January 22 2019 | 10:00