Thursday was the final day in London's most recent Collector's Series Sale, featuring over 2300 lots of historical, cultural and aesthetic value. This was a unique opportunity to obtain items that had never before been seen on the philatelic market. A number received significant global interest and sold for above the estimated price.
Among these was one of the most important items of Bechuanaland philately. The 1891 Cape of Good Hope reconstructed block of six sold for £25,000. Spink's stamps department was delighted to have brought these three horizontal pairs together after over 100 years. The pairs were last together in 1900.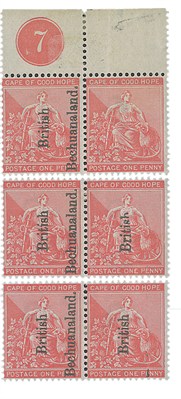 Above: Lot 207
1d. carmine-red reconstructed marginal block of six formed by three horizontal pairs, the top pair, marginal with plate number "7", variety, one without overprint.
This sale at Spink also saw three important and striking 1874-99 issue essays from Natal go under the hammer. Lots 922, 925 and 923, pictured below, sold for almost triple their estimated prices.

Also included in the auction was the "Dunrovin" collection. Undoubtably the finest collection of the Waterlow printings of the Niger Coast Protectorate ever put together, this stunning group included essays, proofs, issued stamps including complete sheets, with many items coming from such well known collections such as Pilkington, Danson, Dale Lichtenstein and Frazer.
For further press information, please contact: Eleanor Ball, Email: [email protected] or Telephone: +44 (0)20 7563 4009 . All images copyright Spink.