ONE OF THE MOST SOUGHT AFTER STAMPS OF 19TH CENTURY PHILATELY TO GO UP FOR SALE AT SPINK IN LONDON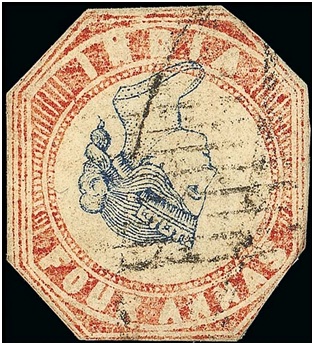 LONDON. 18th January, 2013.Spink & Son Ltdare delighted to be able to offer one of the most legendary philatelic rarities in the world:The 1854 Inverted Head Four Annas of India, a postage stamp cherished and highly sought-after by stamp collectors around the globe.
The famous 1854 issues of India were lithographed in Calcutta at the offices of the Surveyor-General. During the first printing of the 4anna value a major error occurred, resulting in the head being printed upside down. The example in the forthcoming sale is completely free of the faults associated with many of these stamps, making it even more significant. It was also one of the world's first multi-coloured stamps and therefore holds its place in the history of philately.
The stamp, which is estimated to fetch £50,000 - 70,000, is just one of the rare stamps to be sold at auction from the important Medina Collections, which will be offered in a series of sales in London during 2013. This particular stamp will be included in the first of these sales on the 23rd January 2013, titled: The Award Winning Medina Collection of India, Part 1.Also taking place on January 23rd is theMedina Collection of Ceylon Pence Issues.
The Medina Collections were formed by private collector Mohammed Sayeed, FRPSL, over the course of many years and are very diverse in content. They include stamps from India and States, Ceylon, Cape of Good Hope, Afghanistan and Great Britain. Highly prestigious, they have won numerous gold and large gold medals at International exhibitions over the years.
In 2008, in Bucharest, The Scinde Dawk and Lithograph Issues and their Usages display was awarded the FIP Grand Prix D'Honour, one of the highest awards achievable.
David Parsons, Spink's specialist in charge of the sale, said "Spink are thrilled to have been chosen to auction the award-winning Medina collections. Many collectors worldwide, have waited many years for these fine collections to come onto the market place, therefore we anticipate huge interest."
To view the catalogue please Click Here.
For further press information, please contact: Sandie Maylor, Email: [email protected] or Telephone: 020 7563 4009