SPINK CONTINUES TO BUILD ITS PRESENCE IN ASIA
GOOD RESULTS REPORTED FOR THE EXTRAORDINARY
MIZUHARA COLLECTION OF KOREAN STAMPS &
SPINK'S BONDS, BANKNOTES & COIN SALES &
TOP PRICES ACHIEVED FOR OUTSTANDING WINES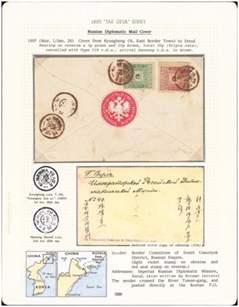 An 1897 envelope from the Russian Border Committee achieved HK$1,080,000
London. January 14, 2013. Private collectors, specialists and stamp enthusiasts were offered the opportunity to bid on some exceptional items in Spink's Hong Kong auctions held between the 11th & 13th January. Among some of the top prices realised were those achieved for the private collection of the great philatelist Meiso Mizuhara, founder of the Japanese Philatelic Society and predominant collector of Korean postal history.
The collection was initiated in 1947, when little was known about Korea. Due to Mizuhara's dedicated study and collecting prowess, the Mizuhara collection became one of the greatest collections of Korea ever formed. He exhibited widely around the globe and due to his collection being so extensive, he was able to compile highly successful multiple exhibitions over the period twenty five years. The collection is rare in that it combines both the Japanese and Korean postal services.
Among the top lots in theMizuhara salewas a delightful and highly important cover dating from 1879, which was sent on the Vladivostok-Nagasaki route, then to Shanghai and by French ship to Europe. Estimated to fetch HK$200,000-250,000 it achieved HK$540,000. Another outstanding exhibition item was a piece bearing horizontal pairs of 5m. rose-pink and 10m. light blue, each cancelled by a central strike of Inchon single-date stamp folded between each stamp and one 10m.These are the only recorded multiples of this issue, making it a prized piece of Korean philately. Estimated at HK$500,000-600,000 it realised HK$508,000.
An 1897 envelope from the Russian Border Committee in Khasan sent to Seoul and bearing on reverse 5p. and 25p. is a remarkable piece from this remote location. Only four examples with the cancellation it bears, are known to have existed. Estimated at HK$150,000-200,000 it achieved HK$1,080,000.
The Fine Stamps of China & Hong Kong salesaw some good results, the top lot, an exceptionally rare error stamp of $2 Hall of Classics with inverted centre used on the cover, sold for HK$4,800,000 and is the only example of this renowned $2 error stamp used on a cover in the world.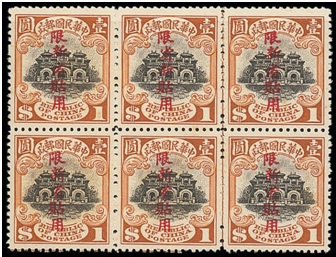 In 1915, Sinkiangoverprinted the current stamps to avoid any currency speculation. In one position on the $1 stamp the second and third characters of the overprint were placed the wrong way around and a few sheets were released before this mistake was discovered.
The particular block in the sale, from the Burkhardt Collection, has remained unseen for seventy years and realized HK$2,640,000 against a pre-sale estimate of HK$1,000,000-1,500,000.
Another star lot was a very rare $2 Hall of Classics with Inverted Centre from the Colonel Valentine Burkhardt Collection which fetched HK$1,200,000 against a pre-sale estimate of HK$800,000-1,000,000. Only one sheet of 50 examples was released and the lot in Spink's sale was an imprint single of position 42 of this error sheet.
An album of Large Dragon issues of Shanghai formed by Colonel Valentine Burkhard achieved HK$960,000 in the sale against an estimate of HK$400,000-500,000. Originally issued in 1865, these are the first postage stamps issued in China. Through dedication, Colonel Valentine Burkhard created a highly sought after collection of this issue.
There was much enthusiastic bidding in the sale ofBanknotes, Bonds & Share Certificates & Coins of China & Hong Kong, where a China Republic, Li Yuan-Hung Founding the Republic dollar achieved HK$90,000 against an estimate of HK$50,000-60,000.
In the Bonds & Shares section, a very fine and detailed Chinese Central Government 6% 'Austrian Loan' £1000 bond, sold for the competitive price of HK$45,600 against a pre-sale estimate of HK$25,000-30,000.
An Honor Company $100 shares certificate dating from 1932 features a lovely vignette of the company's shops and offices. An ornate border and black and blue Chinese text with English makes this is a very attractive piece and instigated spirited bidding. It finally sold for HK$13,200 against an estimate of HK$4,000-5,000.
In the banknote section there was much interest in an 1898 Hong Kong and Shanghai Banking Corporation specimen for $50. The note is perforated withcancelledand details a rare Barclay & Fry engraving. Estimated at HK$60,000-80,000, it realised the staggering price of HK$372,000.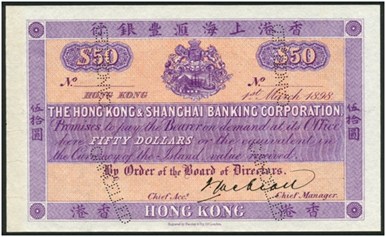 Another note of interest was the Deutsche-Asiatische bank note, part issued $100 Peking, 1st July 1914. A very attractive note featuring Germania at right and arms at top left, a dragon low left, it drew much attention as a fine and rare piece, achieving HK$162,000 against an estimate of HK$100,000-120,000. The sale featured three excellent collections of Chinese banknotes; those from the Thomas d'Adamo Collection from Argentina, The Michael Phua Collection from Singapore and The Keith Austin Collection from Panang., which all sold very well to an enthusiastic and packed saleroom.
Spink's first wine sale of the year, anEvening of Exceptional Winessaw competitive bidding for outstanding wines from France, Australia and the U.S. Bordeaux First growths were as popular as ever, as well as vintage ports.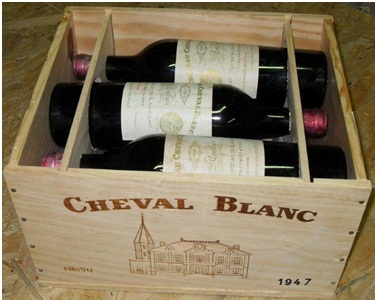 Among the highlights of the sale was an extremely rare case of six bottles of the revered 1947 Château Cheval Blanc, which sold for HK$793,000 against a pre-sale low estimate of HK$630,000.
The sale saw enthusiastic bidding in the room and on the telephones for five Imperials from Château Pavie, the recently classified Saint-Émilion 1er Grand Cru Classé, with prices ranging from HK$18,300 to HK$26,840 against estimates of HK$15,000up to HK$27,000.
Spink Fine Wines is already accepting consignments for its April sale and offers free wine valuations all year round.
For further press information, please contact: Sandie Maylor, Email: [email protected] or Telephone: 020 7563 4009