PRIVATE COLLECTION OF NEW SOUTH WALES STAMPS
FORMED BY THE EXTRAORDINARY GUYBON JOHN HUTSON
TO BE OFFERED AT SPINK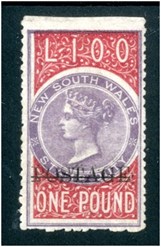 An 1885 perf 12 £1 with 'postage' in black, unused with large part original gum, estimated to fetch £2,000-2500
London. January 10, 2013. Private collectors, specialists and stamp enthusiasts will be offered the opportunity to attain some of the most highly sought after stamps of New South Wales from the revered Guybon John Hutson collection, that until now have remained as treasures within his family. The collection will go under the hammer at Spink in London on February 19, 2013 and is one of the last research/study collections compiled between the 1930s and 1960s to exist intact.
The collection, which won one of the few gold medals awarded at the London International Stamp Exhibition in 1960, was formed by Guybon John Hutson (1891-1963), who began his career as a banking executive, before joining the Gordon Highlanders in 1915 and then the newly formed Machine Gun Corps.
After only six weeks in action at the Battle of the Somme he was shot through the head, which cost him one of his eyes and the partial sight of the other.
His handicap however did not hold him back, he found a way to use the eyes of others and between the wars formed specialised collections of the pictorial issues of New Zealand, Papua and Tasmania. However Hutson's main philatelic interest was in the stamps of New South Wales, which appealed because of their infinite variation and uninvestigated problems, many of which he solved himself. Hutson's expertise and passion grew so much so that in 1960 the Royal Philatelic Society, of which he had been a fellow for many years, published his book, considered an authority on the subject of Philately. On Hutson's death in 1963 the collection passed to his son, who maintained it until his own death earlier this year.
Nick Startup, Spink's specialist in charge of the sale said of the collection: "We are delighted to have been chosen to sell the Hutson collection at auction, it is a fantastic and very important collection which is one of the best collections of New South Wales ever formed, and one which the market has been eagerly awaiting to surface for many years"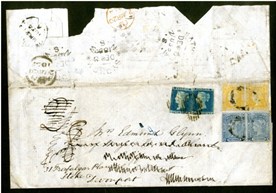 Among the highlights in the collection is an 1854 entire from Orange via Bathurst to London and redirected to Devonport (pictured above), which is (a unique Great Britain and New South Wales combination used on cover). It is estimated to fetch £1500-2000.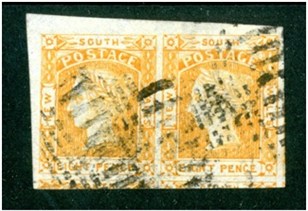 An unusually large pair of the 1853 Laureated 8d (pictured top) is estimated at £600-800.
The collection also features an 1850 Sydney View 2d. Plate 1 block with original gum (pictured below). This example is the largest known Sidney View multiple in existence and is a major exhibition item of great importance. It carries an estimate of £15,000-20,000.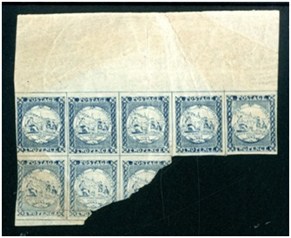 Among some of the other top lots is the largest recorded multiple 1856 registered 6d. unused block of six estimated at £5,000-7,000 and a delightful hand-painted essay for the 1897 Jubilee issue (pictured below), which is estimated to fetch £1,000-1,500.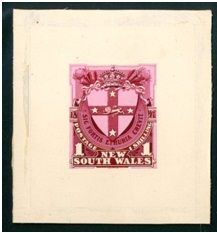 The collection is estimated to fetch between £500,000 and £600,000 with estimates ranging from £80 to £20,000.
For further press information, please contact: Sandie Maylor, Email: [email protected] or Telephone: 020 7563 4009