THE GODFATHER
OF THE PENNY BLACK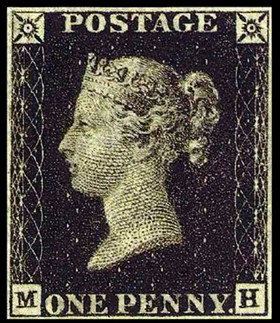 A ONCE IN A LIFETIME COLLECTION TO GO
UNDER THE HAMMER AT SPINK AUCTIONEERS
SIR ROWLAND HILL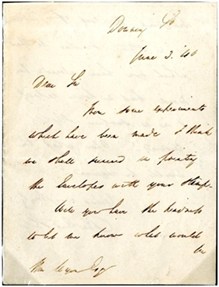 A highly important Letter from Sir Rowland Hill (1795 -1879) to William Wyon
Estimated at £6,000-8,000
A unique and historic letter, dated 3 June 1840, from a visionary innovator, who revolutionised the British postal service, to William Wyon, Chief Engraver at the Royal Mint (1795-1851), whose immortal design of Queen Victoria's head was incorporated on all British stamps, until her death in 1901. This letter marks a significant point in philatelic history, as Hill discusses in detail Wyon's replacement - an embossed envelope - for the ill-fated and ridiculed Mulready pre-paid envelope, which was introduced on 6 May 1840, along with the famous 1d Black and 2d Blue, the first postage stamps in the world.
'THE GAVIN LITTAUR COLLECTION OF BRITISH POSTAL HISTORY'
WILL BE OFFERED FOR SALE AT SPINK AUCTIONEERS IN LONDON ON 13 SEPTEMBER 2012
Since the age of 8 years old, Gavin developed an obsessive interest in philately, attended auctions as a teenager, and soon specialised in British stamps and postal history. The 39 exceptional rarities in this auction, some of which have never been available on the open market, and many of which are unique, now provide a one-off opportunity for the most discerning collectors and investors. Numerous pieces in this concentrated sale have been exhibited at International Exhibitions, in displays which have been awarded three Large Gold Medals, and three Special Prizes. Mentored by some of philately's giants of the time, Gavin has always searched for the very best of the best, with quality his watchword. His postal history collection is generally considered to be the best in the United Kingdom and, the finest ever formed of British postal history in the world. Below are 3 more pieces from the selection of 39 rarities.
"IT'S NOT THE MEN IN MY LIFE THAT COUNT - IT'S THE LIFE IN MY MEN"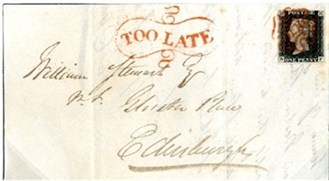 The 'Mae West' Too Late handstamp on a 1d Black cover to Edinburgh
Estimated at £2,500 - £3,000
When letters were handed in after the official Post Office closing time, they were marked 'Too Late', in a variety of forms. The spectacularly bulbous example above (Lot 1023), is known as the 'Mae West', due to its similarity to her significant and famous assets. It is particularly rare on a cover, bearing a 1d Black. The stamp is here cancelled by a perfectly crisp and upright example of the Maltese Cross postmark, which was cancelled in Lockerby on 3 December 1840.
THE LEGENDARY 'DEAL SHIP LETTER' COVER FROM MADEIRA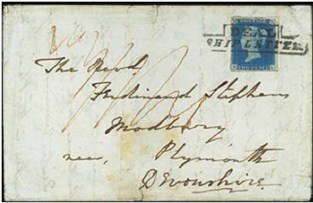 'DEAL / SHIP LETTER' on a 2d Blue cover from Madeira
Estimated at £80,000 - £100,000
The world's first stamps, the 1840 1d Black and 2d Blue, were cancelled by a decorative postmark, called the 'Maltese Cross', in red or black, although other colours are occasionally found. A unique cancellation usage is found on a 2d Blue, on a letter from Funchal, Madeira, dated 1 October 1840, with the adhesive cancelled solely by the 'DEAL / SHIP LETTER' handstamp (Lot 1026). This legendary cover, which is illustrated in 'A History of the Ship Letters of the British Isles' by Alan Robertson, is the pièce de résistance of all cancellations on line-engraved covers of the 1840s.
THE 'SUBMARINE TELEGRAPH ENVELOPE'
The 'TELEGRAPHIC DESPATCH, / BY SUBMARINE TELEGRAPH.' envelope, with cross-Channel message, dated 23 February 1852
Estimated at £50,000 - £60,000
The submarine telegraph line involved running a cable under the sea, and it was the first successful service of its kind in the world, enabling rapid communication between Britain and the Continent. John Walker Brett (1805-1863) and his younger brother, Jacob, pioneered this successful operation, establishing the Submarine Telegraph Company in 1850. Messages via their Patent Printing Telegraph were communicated by means of copper wire, insulated with two layers of gutta-percha.
This sensational envelope, is of major importance in the field of transport and communication, and was sent just 3 months after the line was opened to the public for the transmission of messages, under commissions from the French and Belgian Governments. In his telegraphic message, Captain Baldock writes to a Mrs Taylor, wishing her and her husband a pleasant journey to India, and a happy re-union with her friends in England. This envelope is a demonstration of the huge advances being made in the field of inter-Continental communications in the Victorian era. Unfortunately, John Brett died in a Staffordshire lunatic asylum, but his ground-breaking achievement lives on.