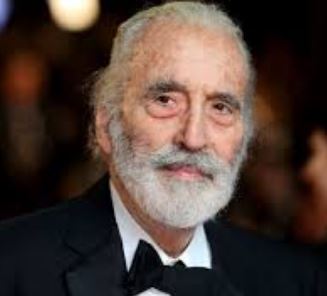 ondon, 1st November 2017 | Many of you may remember our very successful 2013 Spink China sale, in which we offered a selection of memorabilia associated with famous actor Bruce Lee. Four years on we held the first evening auction to take place in our Spink London gallery, in honour of another famous and iconic British actor: Sir Christopher Lee.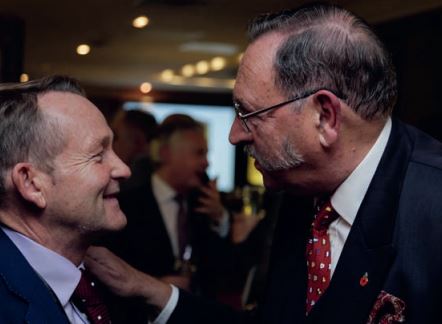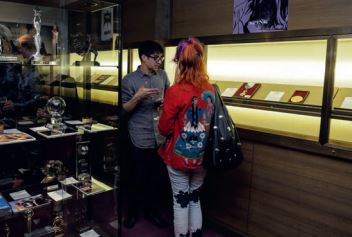 The rostrum was literally moved to the boardroom, all the sliding doors were opened, and our velvet chairs and sofas were arranged to recreate the atmosphere of an auction, but with added glamour! Our guests enjoyed a welcome glass of wine and canapés surrounded by the beautifully showcased lots, while on screen Sir Christopher Lee played heavy metal and songs such as "Jingle Hell" from his symphonic metal concept album "Charlemagne: By the Sword and the Cross." This was a side of the actor unknown to most of us until that evening.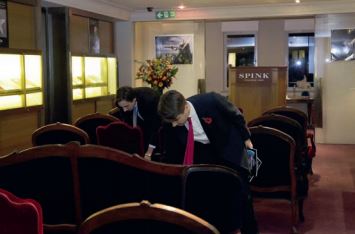 At 7pm we were honoured to have Dame Harriet Walter, Sir Christopher Lee's niece (whose work includes Downtown Abbey, The Crown and Star Wars) opening the sale with a moving speech about her late uncle and how some of the proceeds from the evening would be donated to Denville Hall, a home for actors and other members of the theatrical profession.

Our two Medal specialists and auctioneers, David and Marcus, fiercely took the gavel and started the sale with Lot 1: The Knight Bachelor's badge, C.B.E., C.St. J and Second World War medals bestowed upon Sir Christopher Lee; after intense bidding this lot achieved three times the estimated value and went under the hammer for £9,400. David and Marcus switched batting 12 WINTER 2017 with the gavel throughout the sale, and being closer to the audience they enjoyed a less formal role out of the rostrum, which had a very good response from bidders.

Most bidders were in the room, and we were very pleased to have a 'different' crowd, with many familiar faces and clients from across all categories, plus new faces such as devoted fans who had never been to or bid at an auction before. Many of our new buyers were brave enough to ask for a paddle and give it a go, and commented to me personally after the auction, "we absolutely loved it and want more!" One of our regular Medal collectors emailed before the sale to say, "Your catalogue for the Christopher Lee sale was very well put together I must say and there was a quite refreshing variety of material in there which I am sure will do well, as he was a terrific figure. I never knew about his potential SOE involvement, for that matter."


Interestingly enough some of our philatelic collectors even attended the sale, and one emailed me the day after to say "it was the most fun auction I've ever been to!" Some new collectors who had never been at Spink before related the auction to 'the fun auctions of the XVIIIth century'.

Overall the evening was a great success, both as a fun event and a 'white glove' sale – you could feel how each one of us (including me!) wanted to take home a piece of it. We look forward to welcoming you to our next event, and for those of you who could not attend we hope to see you next time.