SPINK LONDON | The 19th April will see a very interesting piece of philatelic history coming to auction at Spink. The Philatelic Collector's Series sale will be on the 19th and 21st April, with a good section of Great Britain on the 19th and some of the most highly-anticipated collections of items from around the world coming to auction on the 21st. But there is an item amidst the section of Great Britain that has captured Spink's attention!
A Great Britain 1840 One Penny Black with good balanced margins all round, is a delight to find and a constantly popular item at auction. The 1840 Penny Black was the first adhesive Postage Stamp in the world and we are very pleased at Spink to be able to offer one in lot 1762 from the The Dr. Frank Becker FRPSL Collections of Edward VII issues, one of the finest offerings of this popular period to have been offered at auction of the past decade. Lot 1762, however, this one is affixed to a page from 1840 day-to-day diary, dated "Monday, MAY 4, 1840" and "Tuesday 5". Day to day diaries from the seventeenth to the twentieth century were a popular way of organising private thoughts and documenting daily life in the way that photo albums and scrap books are today. Lot 1762 is a beautiful example of someone taking the time to document a very important piece of history with the release of the 1d. black as the manuscript entry for that day includes a reference to the "New Post office stamps commenced, ie Adhesives & Covers". However, though the adhesive 1d. blacks were issued on the 1st May 1840, they were not in use until the 6th, so to find an example from the 5th May is a true rarity! Suffice to say that this is a very exciting anomaly in the history of the penny black, it is also a very fine example of this iconic stamp.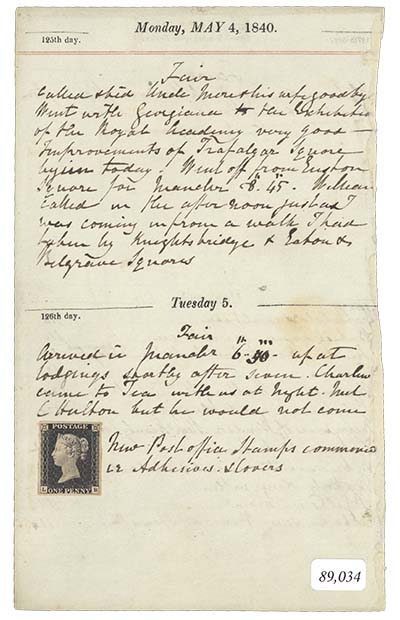 Lot 1762, estimated: £8,000 - 10,000
The sale also contains Part II of the outstanding collections of South and South-West Africa formed by Freddie Herzberg, the Dr Andrew Higson, FRPSL collection of Telegraph Stamps, the much awaited third part of the Professor Derek Diamond collection of New Zealand, and a stunning collection of Cayman Islands postal history. This sale has something for everyone and is bound to see many people walking away from the auction room with a spring in their step and a new treasure to add to their collection!
We look forward to seeing you on the 19th and 21st April 2017.
For more Information, please contact Dominic Savastano:
Tel: +44 (0)20 7563 4094 | Email: [email protected]
About Spink
Spink is the world's leading auctioneer of stamps, coins, banknotes, medals, bonds & shares, autographs, books and wine. Since its foundation in 1666, the Spink name has become synonymous with tradition, experience and integrity. Holder of royal warrants and numerous records for prices achieved at auction, Spink offers an unparalleled range of services to collectors worldwide. Headquartered in London, with offices in New York, Hong Kong, Singapore and Switzerland, Spink holds over 70 auctions a year. Catalogues can be accessed through the Spink website (www.spink.com) or via the Spink App for iPhone and iPad.