SPINK LONDON | This September, as the nights are drawing in and the weather begins to turn, Spink have got a philatelic auction guaranteed to excite and thrill all collectors of Tasmanian philately. Many of the finest collections pass through Spink's auction room, however this one is without doubt a peerless testimony to a passionate collector's life's work. The John Clemente Collection of Tasmania Postal History will take place on the 20th September 2016 in Spink's London auction room.
John Clemente was born in Bari, Italy, in 1926 and graduated in medicine and surgery from the Universities of Bari and Padua in 1948, having commenced his tertiary studies at the tender age of 15. After requalifying in medicine at the University of Queensland in 1950, he took a position at the Launceston General Hospital and, after posts as Tasmanian Government Medical Officer in Scottsdale and Cygnet, he moved to Hobart and a private practice at the end of 1955.
He was not born into a family of philatelists, but he was a natural collector and had a great love of history. From the very beginning, he was a "primary source" man. No endless visits to stamp dealers for him: he'd find caches of early Australian used stamps and soak the GV penny reds off en masse, dry them and then search them meticulously for flaws - roo's tongue out, saddle on emu, substituted cliche and so on!
In amongst a great deal of high-value rarities and various important pieces of postal history, lies lot 194, a curious piece with a fantastic story. It is a June 1908 U.S. 2c. stationery envelope from New York to Queenstown, showing a fine strike of the rare "DAMAGED IN SHIPWRECK "AEON"" with San Francisco transit d.s. and "V. (Arms) R./FOUND OPEN/..../OFFICIALLY SEALED" label. The markings on this envelope describe its official and planned route, and yet its journey was so much more exciting and fortuitous than that! The letter was to be delivered by a ship that sunk. The ship was wrecked near the south-east point of Christmas Island, Gilbert Islands. The passengers escaped to an uninhabited island where a month later the Captain and three officers tried to reach Fanning Island in an improvised motorboat made from a lifeboat. Due to the engine breaking down just short of their goal they were cast back to Christmas Island. A month later they tried again to reach Fanning Island which was achieved on 18 September. "Manuka" then rescued the stranded party and took on board the mail and the lifeboat which was taken back to Christmas Island but when launched from "Manuka" was driven ashore and became a total wreck. Mail for Australia reach Sydney by the "Manuka" on 8 October after its remarkable journey.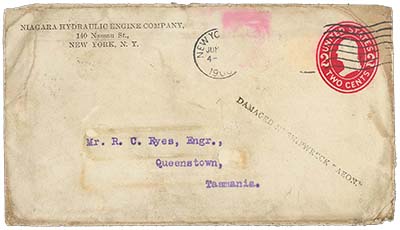 Lot 194, estimated: £600 - 800
His son states that: "interest in Tasmanian postal history started with a collection of pictorial post marks in the late 1960s: my mother tells the story of a discussion with another collector who was telling him how many years he had taken to assemble a complete collection of all Tasmanian Post Office CDSs on pictorials. "I'll do it in a year", said my father. And indeed he did, although Glazier's Bay type 2 is still missing, together with one or two others".
He published the result of his researches in many articles in the London Philatelist and the American
Philatelist in the 1970s and 1980s and was made a Fellow of the Royal Philatelic Society, a rare honour. He also wrote a book, The Free Mail of Tasmania, in which he has attempted a complete list of all the frank stamps and officers with the authority to frank mail in Tasmania, and which sadly has remained unpublished for many years. The book will be published later this year.
For more information, please contact Nick Startup:
Tel: +44 (0)20 7563 4073 | Email: [email protected]
SPINK LONDON | 69 Southampton Row | Bloomsbury | London | WC1B 4ET
About Spink
Spink is the world's leading auctioneer of stamps, coins, banknotes, medals, bonds & shares, autographs, books and wine. Since its foundation in 1666, the Spink name has become synonymous with tradition, experience and integrity. Holder of royal warrants and numerous records for prices achieved at auction, Spink offers an unparalleled range of services to collectors worldwide. Headquartered in London, with offices in New York, Hong Kong, Singapore and Switzerland, Spink holds over 70 auctions a year. Catalogues can be accessed through the Spink website (www.spink.com) or via the Spink App for iPhone and iPad.