SPINK CHINA | Spink's office in Hong Kong will be ringing in the New Year in true Spink style. Spink are well known for being tenaciously sourcing the finest quality material for their auctions and the two Philatelic sales on 17th January 2016 will be no exception. Spink are delighted to not only be displaying, but also selling one of the finest collections of Chinese philately; Meiso Mizuhara, The Exhibition Collection, China Customs Post. This collection is truly a testament to the technical and historical intricacies of Chinese philately. Collectors usually focus on just one or two related topics; however, Meiso Mizuhara compiled a comprehensive collection of the highest quality which encompassed the entire spectrum of Chinese philately.
In a sale as full to the brim with the finest philatelic material as this one, it is difficult to be brief. Amongst the incredible array of postal history however, stands lot 1503. The 1844 opened-out envelope to Paris 'Via Southampton' bearing a Paid at Macao Crowned Circle and "BRITISH GOVERNMENT AGENCY OFFICE/MACAO" double-circle on the reverse. Originally it contained a sixteen page letter which appeared to have been from a French diplomat on a mission to China; Macao was the first trading port in China. A rare and important cover, there are only four recorded examples of the Crowned Circle and only a few more of the Government Agency handstamp, and this is possibly the only cover bearing both of these handstamps.
Lot 1503, estimated: HK$300,000 - 400,000
Robert Hart, a British employee of the Imperial Maritime Customs at Shanghai, was responsible for developing the Customs post to extend to all mail within China. This collection contains a group of essays and printing proofs for the first postage stamps produced for this service. Most are unique. Several frames in the exhibit concentrate on the Large Dragon stamps, the design that was selected for the first stamps. Lot 1515 is the original brush stroke essay that was selected to be the first Chinese postage stamp. It bears the Large Dragon design with the un-adopted Pagoda design. Painted in two colours, these designs show the characters for the alternative values drawn on the left side. It is interesting to note that the ground and clouds are only drawn in pencil; these details were to be included in the final design.
Lot 1515, Estimated: HK$800,000 - 1,000,000­
Despite the popularity of the Large Dragon design, there were few errors on the stamps but the exhibit includes the rare imperforate between variety between a pair on the 1Ca and 3Ca.
There are only four pairs of the 3ca. recorded and this fine pair (lot 1640) is estimated at HK$1,000,000 - 1,500,000
China was not a member of the Universal Postal Union, so mail to overseas countries required additional foreign stamps from one of the member countries. Known as combination covers, these dual-nationality items of postal history are highly prized. Britain, France, Japan, Russia, America and Germany all went on to establish their own post offices in Shanghai, which allowed people to access the foreign stamps they required to send mail overseas. For incoming post from overseas, Chinese stamps were required for delivery by the Chinese Post Office. An entire exhibit frame focuses on particularly prized covers displaying combinations of Chinese and foreign stamps. Among them, is lot 1682, the earliest such cover sent from America addressed to the Imperial Maritime Customs in Shanghai. It is the earliest incoming cover showing Large Dragon stamps applied for its onward journey in China. The 5 candareens were sufficient to pay for the internal postage.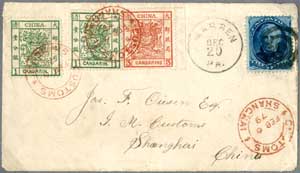 Lot 1682, estimated at HK$1,500,000 - 2,000,000.
New stamps were needed in 1879 when the Chinese currency was changed to dollars and cents; therefore new stamps were required. Suddenly high-value stamps were required that were not yet printed; in particular, a supply of $1 and $5 stamps. Delays at the printers meant that the stamps would not be available in time, and existing stamps were overprinted with the new currency values and used instead. The unused 3c. revenue was an ideal candidate as the printing quality was of a very good standard and none had been released to the public, making it impossible to produce a convincing fake. Very few 3c. stamps remained without being surcharged. It is estimated that there are as few as eighty of these stamps. Blocks of these stamps are particularly rare with only five recorded. However this collection contains one of the finest, lot 1718, a block from the top of the sheet has a fresh appearance which contributes to its extremely high estimated value.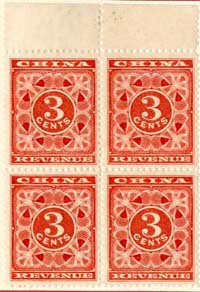 Lot 1718, estimated: HK$1,200,000 -1,500,000.
The first value overprinted on these stamps was $1. However, it was felt that the Chinese characters were too small to be read easily; therefore, after only fifty stamps were printed the central design was changed. Only thirty three stamps have been recorded. The collection contains two such examples, lot 1719 and 1720. These two examples in the Mizuhara collection were incredibly, originally a pair; the first two stamps in the pane of twenty five. Lot 1720 is in better condition, which is why it has a larger estimate.
Lot 1719, estimated at HK$1,200,000 - 1,500,000
Lot 1720, estimate: HK$2,000,000 - 2,500,000
When demand for the low-value stamps began to outstrip the available supply, the remaining stock of 3c. stamps were used to boost the numbers of 1c., 2c. and 4c. values. Even though there was a considerable rush to get as many stamps surcharged as quickly as possible, not many errors are recorded. However, this collection contains two of the rarest. There are only twenty examples of a double printed 2c. surcharge, lot 1730, and another twenty examples of this surcharge printed both upside down and double, 1731.
Lot 1730, estimated: HK$600,000 - 800,000
Lot 1731, estimated: HK$1.500.000 - 2,000,000.
This sale may contain many errors, but there can be no mistake that it will be a sale that truly sets the bench mark for all Chinese philately. An incredible way to kick start 2016 and we are positive it will set the tone for the year to come!
For more information, please contact:
Tel: +852 3952 3000 | Email: [email protected]
SPINK CHINA | 4/F Hua Fu Commercial Building | 111 Queen's Road West | Hong Kong
About Spink
Spink is the world's leading auctioneer of stamps, coins, banknotes, medals, bonds & shares, autographs, books and wine. Since its foundation in 1666, the Spink name has become synonymous with tradition, experience and integrity. Holder of royal warrants and numerous records for prices achieved at auction, Spink offers an unparalleled range of services to collectors worldwide. Headquartered in London, with offices in New York, Hong Kong, Singapore and Switzerland, Spink holds over 70 auctions a year. Catalogues can be accessed through the Spink website (www.spink.com) or via the Spink App for iPhone and iPad.