SPINK LONDON | Spink is very excited to be holding one of its very special Autographs, Historical Documents, Ephemera and Postal History sales on the 8th October 2015 in London. With the recent birth of the new princess, the items in this sale could not be more delightfully relevant and insightful into the rich history of the monarchy and Britain. From the late Tudor reign to the 19th Century, this sale demonstrates much of the creation of the monarchy's greatest tools of propaganda.
Amongst the 200 or so lots stands lot 3, some letters of patent granted by King Edward VI bearing a remarkably fine Great Seal of Edward VI, clearly showing the lettering edging around the border. This is the second seal of Edward VI used between 1548 and 1553. It shows the King enthroned in royal robes with royal sceptre and orb. In the field on each side an ornamental shields of arms of France and England on either side.
Lot 3, estimated: £1,500 - 1,800
Similarly lot 4 is also a letter of patent, but this time from Edward VI's older sister Elizabeth I. The lot comprises of a licence for 53s. 4d written in 1600 (2 September) on one piece of vellum in a very neat official hand. The document bears the Great Seal engraved by Nicholas Hilliard. Elizabeth I used this great seal during the second half of her reign - from 1586 to 1603. It is an impression from seal matrix made of bronze and was engraved by Nicholas Hilliard, who was famous for his small paintings or miniatures. The matrix was used to create wax impressions that were used to 'seal' documents. This was a means of proving that the accompanying document had been written or approved by the owner of the seal. Seals were widely used by statesmen, nobles, judges, churchmen and even ordinary people. The great seal was the most important of all as the monarch used it to approve public acts and announcements. It was a powerful political tool. The great seal of Elizabeth gives an insight into how the queen wanted to be seen. On one side, she is shown holding the sceptre and orb that are the traditional symbols of royal power. Heavenly rays above her head are a sign of her divine status. On the reverse side, Elizabeth is shown on horseback riding across a field of flowering plants. This symbolises hope and prosperity, as well as the queen's femininity. Her image is one of strength, but unlike her predecessors she is not wearing military dress. She is flanked by the symbols of her lands: the Tudor Rose of England, the Harp of Ireland, and the Fleur-de-Lys of France. The inscription around the edge reads: 'Elizabetha dei gracia Anglie Francie et Hibernie Regina Fidei Defensor' (Elizabeth, by grace of God, Queen of England, France and Ireland, Defender of the Faith). The seal is in a superb state of preservation, with complete inscription and comes in its original leather and wood box which is lined by printed religious text and a piece of fourteenth century religious manuscript. Related to the same land as the previous Letter Patent, this is a very important item of Kent history.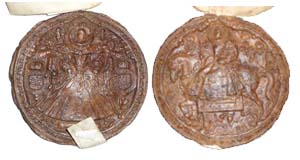 Lot 4, estimated: £2,000 - 2,500
Jumping forward some 400 years, the sale also contains large array of items pertaining a Durbar, a public reception held by an Indian prince, British governor or viceroy in India, that took place in 1911. Amongst which is lot 81, a stunning handwritten letter from King George V from Balmoral Castle to Lord Morley, the Secretary of State for India written on his very distinctive black and silver, personal mourning notepaper in 1910.
In this letter, the King writes:
"... I mentioned to Mr Asquith. Ever since I visited Indiafive years ago, I have been impressed with the great advantage which would result from a visitby the Sovereign to that great Empire ... I am convinced where it is possible for me,accompanied by the Queen, to go to India & hold a Coronation Durbar at Delhi, where weshould meet all the Princes, Officials & vast numbers of people, the greatest benefits wouldaccrue to the Country at large... I feel confident that my Ministers ... will appreciate mymotives, which are actuated by a deep sense of duty & by my sympathetic interests in thePeoples of India ... I should like to hold the Durbar in January 1st 1913."signed"GeorgeR.I."
The Durbar subsequently took place on 12th December 1911, during which King George V announced the movement of the capital of India from Calcutta to New Delhi during and also laid the foundation stone of New Delhi. Generally the Durbar achieved its purpose of cementing support for British rule among the ruling princes, as was demonstrated by the support given during the First World War. Spink is very excited to be offering such a highly important letter from the King.

Lot 81, estimated: £1,200 - 1,500
For more Information, please contact Neill Granger:
Tel: +44 (0)20 7563 4077| Email: [email protected]
About Spink
Spink is the world's leading auctioneer of stamps, coins, banknotes, medals, bonds & shares, autographs, books and wine. Since its foundation in 1666, the Spink name has become synonymous with tradition, experience and integrity. Holder of royal warrants and numerous records for prices achieved at auction, Spink offers an unparalleled range of services to collectors worldwide. Headquartered in London, with offices in New York, Hong Kong, Singapore and Switzerland, Spink holds over 70 auctions a year. Catalogues can be accessed through the Spink website (www.spink.com) or via the Spink App for iPhone and iPad.