SPINK ASIA | Spink is excited to announce its inaugural Antique Map sale will take place on 16th August 2015 during the World Stamp Exhibition (14 - 19 August 2015). Cataloguing and describing these beautiful antique maps has been an honour and a privilege. Maps have been a way for humanity to understand, recognise and navigate the landscape around them, turning an unintelligible three-dimensional landscape into a readable object. These works of art reveal the overall majesty of a landscape through stylised symbols expressing the natural features of a country's geography and allow a modern onlooker a view into a world before technology took away the world's secrets. The original google earth is contained within this collection of just over 200 antique maps from the early 16th century onwards. Against the beautiful backdrop of Singapore, Spink's first ever Map sale will be a combination of oriental rarity, beauty and history.
Amongst this incredible collection of maps is one of the very first to document China for Western Europeans. Created in 1589 by Abraham Ortelius it bears the title 'Chinae, olim Sinarum regionis, nova descriptio auctore Ludovico Georgio,' on its front. This is the third version of this map, originally based on the first western map of China and first published in Ortelius "Theatrum" in 1584. Ortelius' maps of China are taken directly from reports of the Portuguese mapmaker Luis Jorge de Barbuda who made a manuscript map of China which reached Ortelius via Arias Montanus, the first published in 1584, Ortelius' map of China is the earliest printed map to focus on China and the first to illustrate the Great Wall of China. Tooley (an English map dealer, authority on early maps and cartographers, noted compiler of catalogues on maps, cartography and antiquarian books, author ofMaps and Map-makers)referred to the map as the standard map of the interior of China for over sixty years. When this map appeared, it was by far the most accurate representation of China to appear on a printed map. Japan is shown on a curious curved projection reminiscent of Portuguese charts of the period with Honshu dissected along the line of Lake Biwa. The Great Wall is shown, but only a relatively small section, its length is significantly underestimated. The Tartar "yurts" are dotted across the plains and steppes of Central and East Asia.
Although the map's Portuguese maker, Barbuda, was himself not a Jesuit his sources for the map were. The Portuguese Jesuits had already established a mission in China in 1577 and were a reliable source to comment on the features of the landscape. The Chinese characters found in the text on the verso of the map were the first introduction to Chinese language for many educated Europeans of the time. With its three lushly designed cartouches and many illustrations of indigenous shelters, modes of transportation and animals, this is one of Ortelius's richest engravings and estimated to reach an incredible hammer price on the 16th August.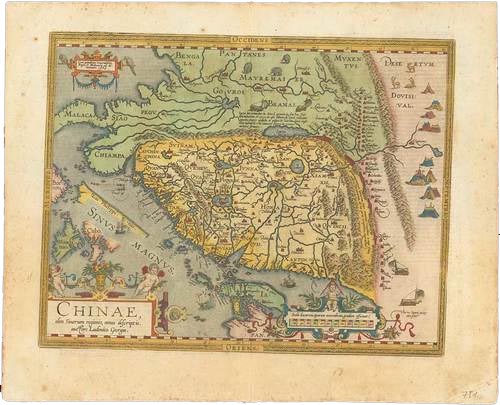 Lot 31, estimated: S$10,000-12,000
Immediately afterwards follows lot 32, a hand illustrated map of Peking from 1655. Bearing the title 'Pechili sive Peking Imperii Sinarum Provincia Prima', by Johannes Blaeu; from his greater work: "Novus Atlas Sinensis a Martino Martinio Soc. Iesu Descriptus ...," Amsterdam. This map includes the cities of Xvntien (Peking), Paoting and others and it is interesting to note that Tiencin (Tientsin) is a small fortification and includes the coastline of the Gulf of Chihili. Its two elaborate cartouches make the piece beautiful and eye-catching; one with the scale and featuring two astronomers with a globe, and the title cartouche with important dignitaries and two stunning phoenix which boldly draw the eye.
This lot is both visually exquisite and historically fascinating. Volume XI of Blaeu's superb atlas is the very first western atlas of Asia. This volume is based on the remarkably accurate compilations of the Jesuit Father Martino Martini during his travels between 1643 and 1650. On his return trip to Rome, Martini's ship was blown off course, forcing him to land in Norway. He subsequently made a stop in Amsterdam where he met Johannes Blaeu, and agreed to assist in the production of the "Atlas Sinensis". Martini succeeded in producing very accurate maps of Japan, China, and their provinces, which may be attributed to Martini's skill as well as access to Chinese maps during his travels. His maps were copied extensively for the next century. Of particular note, in Imperii Sinarum and Iaponia Regnum, Korea is shown as a peninsula for the first time on a map produced outside of China. The Jesuit missions are indicated throughout the maps by a cross above the letters "IHS." The atlas includes a general map of China, fifteen maps of individual Chinese Provinces.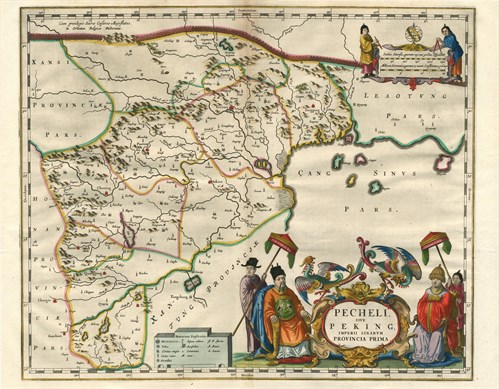 Lot 32, estimated: S$6,000-8,000
For more information, please contact Neill Granger:
Tel: +44 (0)20 7563 4077| Email: [email protected]
About Spink
Spink is the world's leading auctioneer of stamps, coins, banknotes, medals, bonds & shares, autographs, books and wine. Since its foundation in 1666, the Spink name has become synonymous with tradition, experience and integrity. Holder of royal warrants and numerous records for prices achieved at auction, Spink offers an unparalleled range of services to collectors worldwide. Headquartered in London, with offices in New York, Hong Kong, Singapore and Switzerland, Spink holds over 70 auctions a year. Catalogues can be accessed through the Spink website (www.spink.com) or via the Spink App for iPhone and iPad.