SPINK LONDON | Spink's philatelic specialists have put together the July Collector's Series Sale (20th - 21st July 2015) with some truly amazing rarities and exotic items from across the globe. With a strong showing from China, Rhodesia, South Africa and Russia, this is a philatelic auction not to be missed. With some exceptional estimates, Spink is hopeful to break a few world records with this auction. Many of the Russian items are estimated to go for some exceptional prices and out of 1179 lots, two Russian items refuse to be swamped by the rest of the sale.
The first of these lots is not only visually stunning but also has a very interesting story behind it. It is an 1897 (2 Oct.) 10k. letter card from Erivan (Russian Armenia) to Middlesex. The sender, a Mr L. L. Bellifante, was a member of the Geographical Society of London. It reports in length to a Mr. Black an expedition he undertook to Mount Ararat, its interesting contents explain the nature of the dangerous and exciting situation Mr. Bellifante found himself in:
"Most of us returned here from Mount Ararat yesterday evening. We had a pretty hard but at the same time delightful expedition . . . We were two days in camp at the Prince's wall (7500 feet), at the pass between Great & Little Ararat.... A few experienced mountaineers ventured up Great Ararat, but most had to come down long before they reached the top. Two did get up, but had to spend the night at 15,000 feet and were nearly frozen to death. . .This country is considered so unsafe that we are accompanied everywhere by a Cossack Guard of 1⁄2 dozen men, and our camp was protected by a whole squadron . . ."
A fine and an exceptionally rare letter card for all adventure seekers. A full transcript is also included with the lot.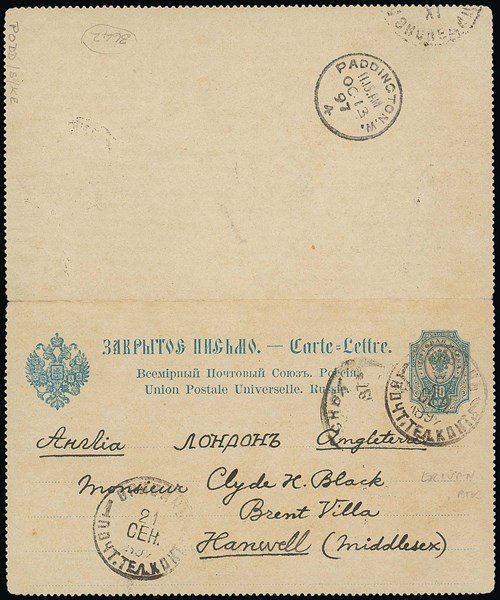 Lot 856, Estimated: £1,000-1,200
Estimated to go for far more, a great rarity is being offered straight afterwards. Lot 857 is a full set of perforation 141⁄2 x 15 horizontally laid paper 1k. black and pale yellow and a 3k. black and light green, a 5k. black and purple, a 10k. blue and red-brown, a 20k. orange and blue and a 30k. green and carmine-rose. This means that Spink is offering the complete set of six values in superb, unmounted mint sheets of 100 (four panes of twenty-five each), fresh, vivid colours, a fine and magnificent set for the discerning collector. There is only one other set of sheets believed to exist. S.G. 18-23.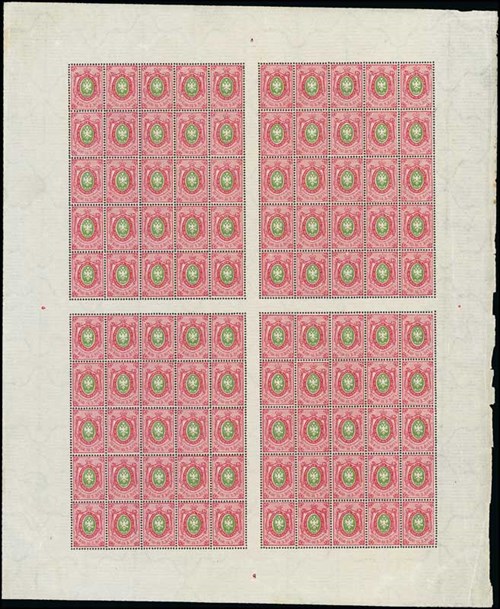 Lot 857, Estimated: £40,000-45,000
For more Information, please contact Dominic Savastano:
Tel: +44 (0)20 7563 4094 | Email: [email protected]
About Spink
Spink is the world's leading auctioneer of stamps, coins, banknotes, medals, bonds & shares, autographs, books and wine. Since its foundation in 1666, the Spink name has become synonymous with tradition, experience and integrity. Holder of royal warrants and numerous records for prices achieved at auction, Spink offers an unparalleled range of services to collectors worldwide. Headquartered in London, with offices in New York, Hong Kong, Singapore and Switzerland, Spink holds over 70 auctions a year. Catalogues can be accessed through the Spink website (www.spink.com) or via the Spink App for iPhone and iPad.