Spink has yet again reinstated itself as the world's premier auction house by breaking six world records for Middle Eastern postal history within a single auction.
Many incredible results from the auction of "Indian Postal Agencies in the Persian Gulf Area, The Alan Parsons Collection", 10th October 2014, achieved hugely impressive prices that surpassed estimates by the thousands.
One of the items to do so was one of the finest of the few covers known from Muscat (Lot 2183) with the "23" Duplex. Dated 1871, the cover bears a 1a. brown cancelled by a superb complete strike of this very rare marking. The small envelope gained a huge realised price of HK$420,000, the highest earning lot of the auction.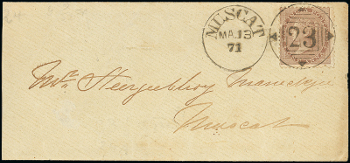 Lot 2183
Price Realised: HK$420,000
Another record breaker was the only recorded cover from the Guadur experimental postal agency period at the time the Bombay Circle was in control (Lot 2077). Dated 1870, the envelope, registered "Via Southampton"to Birkenhead bears a 2a. orange and 4a. green with shared manuscript "Stamped". Impressively achieving over 25 times its estimate, the cover realised HK$360,000.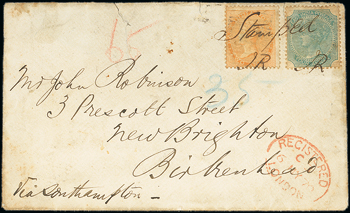 Lot 2077
Price Realised: HK$360,000
Other items to achieve world class results included:
An envelope registered from Kuwait to Basra, bearing Iraq British Occupation 4a. on 1¾pi. red-brown and grey that showcased a very rare and almost certainly unique usage of the "KOWEIT" double-ring datestamp (Lot 2118 - Price Realised HK$228,000)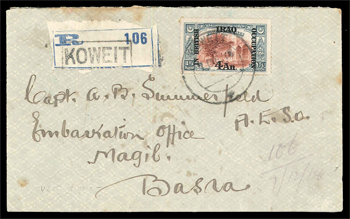 2118
Price Realised: HK$228,000
A rare 1886 envelope, registered from Bahrain to Bombay, showing the earliest recorded date of use for a cancellation and datestamp on cover (Lot 2029 - Price Realised: £84,000)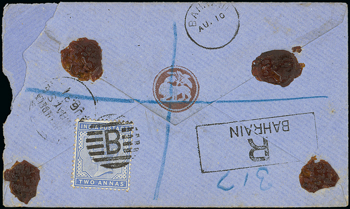 2029
Price Realised: HK$84,000
An early 1909 usage of the "DUBAI/B.O./PERSIAN GULF" c.d.s. on an envelope to Dubai, dated 1909 (Lot 2052 - Price realised: £72,000)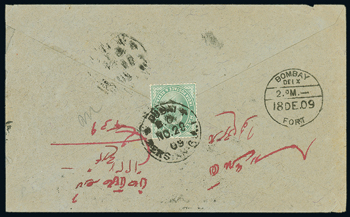 2052
Price Realised: HK$72,000
An unusual and rare 1937 envelope from Sharjah airmailed to England bearing three 2a. purple that share a superb boxed "SHARJAH" handstamp in violet. (Lot 2230 - Price Realised: 60,000)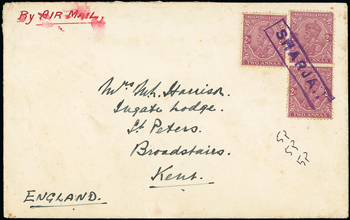 2230
Price Realised: HK$60,000
About Spink
Spink is the world's leading auctioneer of stamps, coins, banknotes, medals, bonds & shares, autographs, books and wine. Since its foundation in 1666, the Spink name has become synonymous with tradition, experience and integrity. Holder of royal warrants and numerous records for prices achieved at auction, Spink offers an unparalleled range of services to collectors worldwide. Headquartered in London, with offices in New York, Switzerland, Hong Kong and Singapore, Spink holds over 70 auctions a year. Catalogues can be accessed through the Spink website (www.spink.com) or via the Spink App for iPhone and iPad.
For more information about this auction, please contact:
David Parsons | Spink London | Tel:+44 (0)20 7563 4072 | Fax:+44 (0)20 7563 4085 | Email:[email protected]
Tommy Chau | Spink China | Tel:+852 3952 3000 | Fax:+852 3952 3038 | Email:[email protected]
For press enquiries, please contact:
Ed Rivers
Advertising, Marketing & PR