Following the outstanding auction of Indian Postal Agencies in the Persian Gulf Area from Alan Parsons, Spink China held an auction of diverse selection of stamps, surcharges and postal history dating back to Imperial China.
From the huge catalogue on offer, one of the many historically important items was the 1980 Year of the Monkey from the People's Republic of China in a complete sheet of eighty (Lot 869). This fine sheet is surpassed its estimate and achieved HK$1,200,000.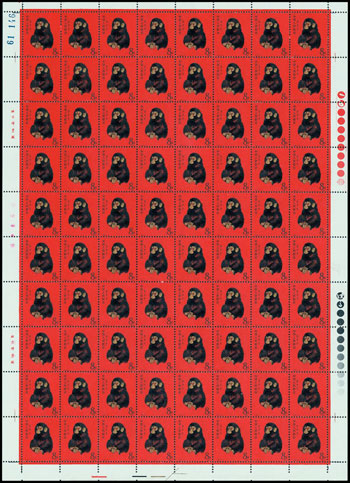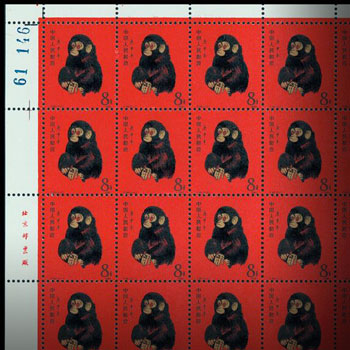 Lot 869
Price Realised: HK$1,200,000
Other highlights amongst the hundreds on offer included a very attractive 1894 Dowager Express cover bearing 1ca. vermillion and 2ca. green cancelled by "Newchwang" sesal chop woth matching customs c.d.s (Lot 141 - Price Realised HK$66,000) and a 1902 I.C.P 1c. Chinese Imperial Post Postal Stationary card containing a number of rare cancellations (Lot 255 - Price Realised HK$66,000)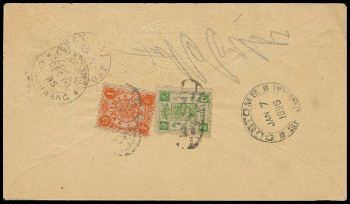 Lot 141
Price Realised: HK$66,000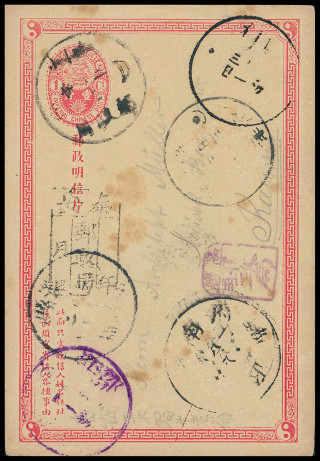 Lot 255
Price Realised: HK$66,000
About Spink
Spink is the world's leading auctioneer of stamps, coins, banknotes, medals, bonds
& shares, autographs, books and wine. Since its foundation in 1666, the Spink name has become synonymous with tradition, experience and integrity. Holder of royal warrants and numerous records for prices achieved at auction, Spink offers an unparalleled range of services to collectors worldwide. Headquartered in London, with offices in New York, Switzerland, Hong Kong and Singapore, Spink holds over 70 auctions a year. Catalogues can be accessed through the Spink website (www.spink.com) or via the Spink App for iPhone and iPad.

For more information about this auction, please contact:
Tommy Chao | Spink China |Tel: +852 3952 3020 |Fax:+852 3952 3038 | Email:[email protected]
For high resolution images please contact;
Ed Rivers
Marketing, Advertising & PR