On 10th October 2014, Spink China held an eventful evening sale offering the remarkable collection of Indian Postal Agencies in the Persian Gulf Area assembled over many years by the well-known collector and student of this area; the late Alan Parsons FRPSL.
The majority of lots achieved incredible prices that surpassed estimates by the thousands. Setting new records for Middle East material, Spink raised the bar to a new level within this genre of stamp collecting.
Amongst the many highlights of the evening was one of the finest of the few covers known with the "23" Duplex, C5 from Muscat (Lot 2183). Dated 1871, the cover bears a 1a. brown with a superb complete strike of this very rare marking. The small envelope gained a huge realised price of HK$420,000, the highest earning lot of the auction.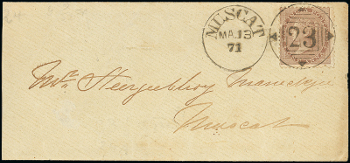 Lot: 2183
Price Realised: HK$420,000
Also featured was the only recorded cover from the experimental postal agency period at the time the Bombay Circle was in control (Lot 2077). Dated 1870, the envelope is registered "Via Southampton" to Birkenhead and bears a 2a. orange and 4a. green with shared manuscript "Stamped". Impressively achieving over 25 times its estimate, the cover realised HK$360,000.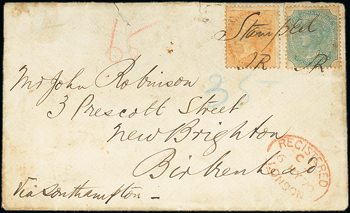 Lot 2077
Price Realised: HK$360,000
Other impressive items included an envelope registered to Basra, bearing Iraq British Occupation 4a. on 1¾pi. red-brown and grey that showcased a very rare and almost certainly unique usage of adhesive (Lot 2118 - Price Realised HK$228,000), and a very rare censored envelope addressed to Karachi and redirected locally. Marked with four different transit/arrival datestamps in a variety of colours (Lot 2156 - Price Realised HK$216,000).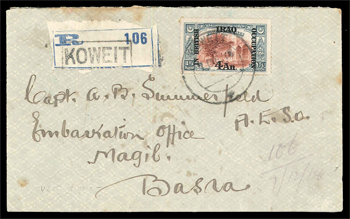 Lot 2118
Price Realised: HK$228,000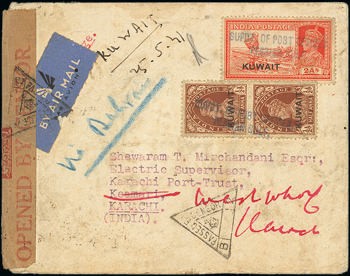 Lot 2156
Price Realised: HK$216,000
Commenting upon the success of the auction, David Parsons (Spink Specialist) commented; "The remarkable prices achieved at this superb auction confirms the huge continuing strength in Middle East postal history."
About Spink
Spink is the world's leading auctioneer of stamps, coins, banknotes, medals, bonds & shares, autographs, books and wine. Since its foundation in 1666, the Spink name has become synonymous with tradition, experience and integrity. Holder of royal warrants and numerous records for prices achieved at auction, Spink offers an unparalleled range of services to collectors worldwide. Headquartered in London, with offices in New York, Switzerland, Hong Kong and Singapore, Spink holds over 70 auctions a year. Catalogues can be accessed through the Spink website (www.spink.com) or via the Spink App for iPhone and iPad.

For more information about this auction, please contact:
David Parsons | Spink London | Tel: +44 (0)20 7563 4072 | Fax: +44 (0)20 7563 4085 | Email: [email protected]
Tommy Chau | Spink China | Tel: +852 3952 3000 | Fax: +852 3952 3038 | Email:[email protected]

For press enquiries, please contact:
Ed Rivers
Advertising, Marketing & PR