On 11th of October, Spink China will auction a diverse selection of stamps, surcharges and postal history dating back to Imperial China.
One of the many historically important items amongst the hundreds of lots on offer is the 1980 Year of the Monkey from the People's Republic of China in a complete sheet of eighty (Lot 869). This fine sheet is expected to achieve HK$1,000,000-1,100,000.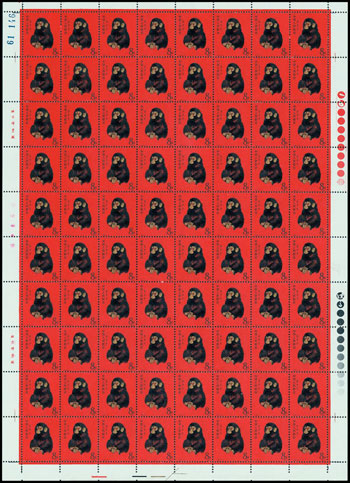 Lot 869
Estimate: HK$1,000,000 - HK$1,100,000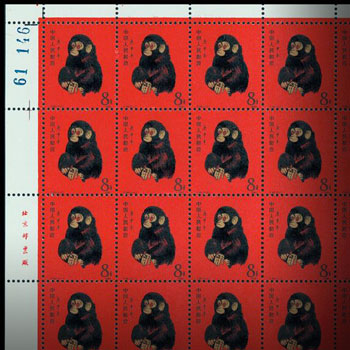 (detail)
Highlights also include a fine and very attractive 1896 envelope addressed to Stockholm, Sweden (Lot 142). Bearing Dowager Empress 6ca. brown and 12ca. orange cancelled by a "Newchwang" seal chop, alongside a French "Chine" 25c, cancelled by "Shang-hai/Chine" c.d.s, the envelope paying double Chinese postage rate is estimated HK$100,000 - HK$150,000.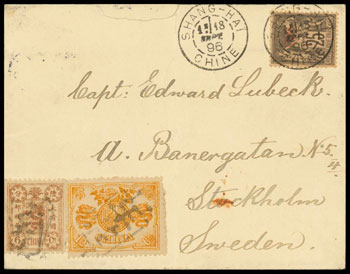 Lot 142
Estimate: HK$100,000 - HK$150,000
Also on offer is a set of three 1897 New Currency surcharges in marginal blocks of four with large figures on Small Dragons (Lot 148). Printed in bright colours, the appealing set is expected to achieve between HK$100,000 - HK$130,000.

Lot 148
Estimate: HK$100,000 - HK$130,000
From the People's Republic of China is a rare 1969 airmail envelope from Tsingtao to Germany (Lot 856). The envelope bears an Anti-American Declaration (W9) 8f. on the cover and a se-tenant strip of 5 8f. Directives of Chairman Mao on the reverse. A key piece to any collectors Cultural Revolution exhibit, it is valued HK$45,000 - HK$60,000.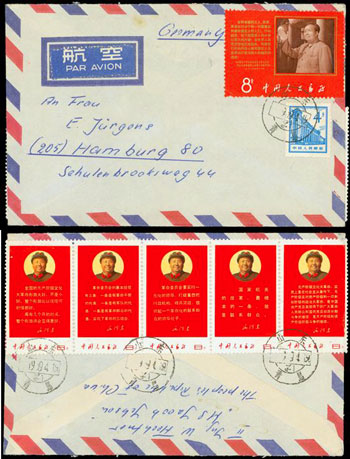 Lot 856
Estimate: HK$45,000 - HK$60,000
About Spink
Spink is the world's leading auctioneer of stamps, coins, banknotes, medals, bonds & shares, autographs, books and wine. Since its foundation in 1666, the Spink name has become synonymous with tradition, experience and integrity. Holder of royal warrants and numerous records for prices achieved at auction, Spink offers an unparalleled range of services to collectors worldwide. Headquartered in London, with offices in New York, Switzerland, Hong Kong and Singapore, Spink holds over 70 auctions a year. Catalogues can be accessed through the Spink website (www.spink.com) or via the Spink App for iPhone and iPad.
For more information about this auction, please contact:
Tommy Chau | Spink China | Tel:+852 3952 3020 | Fax:+852 3952 3038 | Email:[email protected]
For high resolution images please contact;
Ed Rivers
Marketing, Advertising & PR