Spink London is thrilled to announce the sale of one of the most prized rarities in all Australian Philately; a corner block of the prepared but never issued, Edward VIII 2d. stamps.
Offered on 16th October 2014, amongst other items of the Australian Commonwealth specifically selected from the outstanding Vestey collection and sold by the order of Trustees, the unique block is expected to realise between £200,000 - £300,000.
During the reign of King Edward VIII in 1936, the Governor of Victoria, Lord Huntingfield, visited the Note and Stamp Printing Branch of the Commonwealth of Australia. After witnessing the printing process of the then new King Edward VIII issues, Huntingfield was invited to date and sign a sheet of the stamps for identification, which he was later given as a memento of the occasion.
However, following the abdication of King Edward a month later, instructions were sent by the Postmaster-General's Department to completely destroy everything connected with the issue, bar the near miss that was the sheet in Huntingfields possession.
In a letter sent by John Ash, General Manager of the Commonwealth Bank, to Huntingfield requesting the sheet back states; "…We have been in communication with the Postal Authorities and the Chairman of the Bank in the matter, and we finds ourselves in the position that we are reluctantly compelled to ask that His Excellency will arrange at his convenience to have the sheet returned to us."
The 3x2 block of six is printed in vivid scarlet on C of A watermarked paper and include the initialled and dated (29/9/36) signature by the Governor of Victoria with interpanneau margin at the foot.
Spink Specialist, Nick Startup, comments; "These stamps are the only examples known and, in all probability, the only examples which can exist…Undoubtedly the greatest rarity in Australian philately"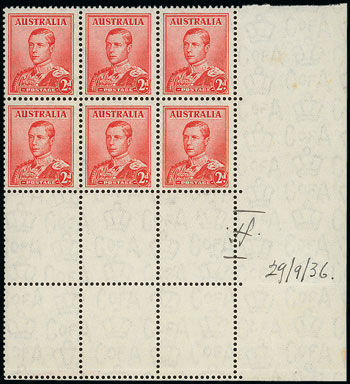 Lot 212
Estimate: £200,000 - £300,000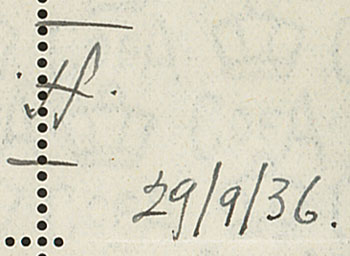 Detail of Huntingfield's dated signature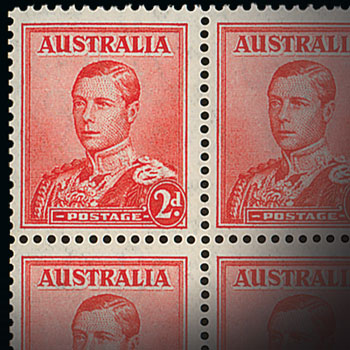 Detail of King Edward VIII portrait
Other highlights of the auction include an extremely rare group of perforated colour trials of the King George V 4d. issue (Lot 154, estimated £20,000 - £30,000), and an extremely rare, with only four examples known, 1½d. marginal variety commemorating the Centenary of Western Australia, which is imperforate between stamp and margin (Lot 192, estimated £12,000 - £15,000).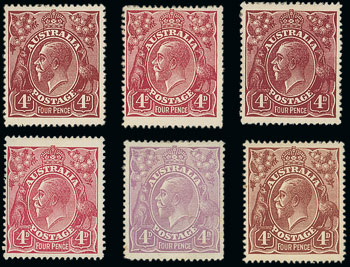 Lot 154
Estimate: £20,000 - £30,000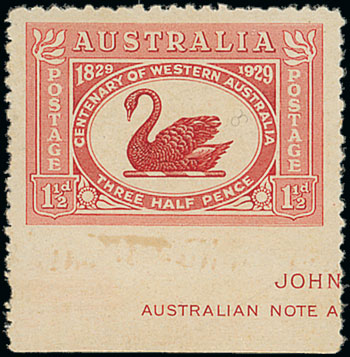 Lot 192
Estimate: £12,000 - £15,000
About Spink
Spink is the world's leading auctioneer of stamps, coins, banknotes, medals, bonds & shares, autographs, books and wine. Since its foundation in 1666, the Spink name has become synonymous with tradition, experience and integrity. Holder of royal warrants and numerous records for prices achieved at auction, Spink offers an unparalleled range of services to collectors worldwide. Headquartered in London, with offices in New York, Switzerland, Hong Kong and Singapore, Spink holds over 70 auctions a year. Catalogues can be accessed through the Spink website (www.spink.com) or via the Spink App for iPhone and iPad.
For more information about this auction, please contact:
Nick Startup | Spink London | Tel:+44 (0)20 7563 4073 | Fax:+44 (0)20 7563 4072 | Email:[email protected]
For press enquiries, please contact:
Ed Rivers
Advertising, Marketing & PR