On 10th October 2014, Spink China will auction a remarkable collection of Indian Postal Agencies in the Persian Gulf Area assembled over many years by the well-known collector and student of this area; the late Alan Parsons FRPSL.
President of the India Study Circle for 8 years, Alan Parsons is best remembered for his award winning displays of Persian Gulf Postal History and collections of Eastbourne, Gibraltar, Malta, Morocco Agencies, Pondicherry and Zanzibar.
Spink Specialist, David Parsons comments "Philately was a lifelong and absorbing hobby for Alan and we hope that the collection offered here, and lotted for collectors, will be a fitting tribute to a gentle man."
Comprising over 450 lots the sale commences with the Postal Agencies of Bahrain, Dubai, Guadur, Kuwait and Muscat.
Amongst this section is what is believed to be the sole item of registered mail from the Field Force campaign of the Anglo-Persian War (Lot 2022). Dated 1857, the envelope is registered to the Naval Dubash at Bombay and bears a superb "FIELD FORCE/PD/PERSIA" c.d.s. in red and framed "REGISTERED/LETTER NO" handstamp on face with 1854 2a. green neatly cancelled "131" on reverse. Estimated HK$60,000 - HK$72,000.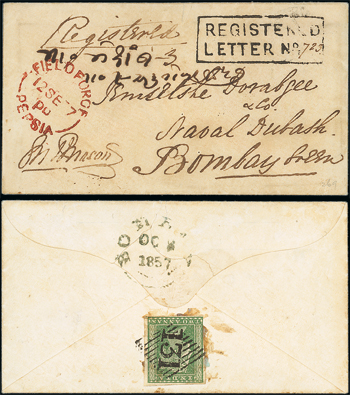 Lot 2022
Estimate: HK$60,000 - HK$72,000
Following this is a large offering of both Iran and Iraq. Featured is a 1917 envelope with a rare combination franking, addressed locally to the Baghdad General Headquarters during the British Occupation of Baghdad (Lot 2390), and estimated HK$18,000 - HK$24,000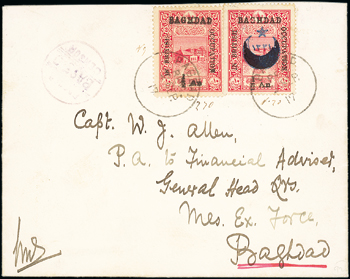 Lot 2390
Estimate: HK$18,000 - HK$24,000
Also featured are fifteen lots of envelopes written by Rev. Alington at Jask, the first missionary on the Mekran Coast, to his brother Rev. Alington at Spilsby, Lincolnshire (Lots 2311 - 2325)
All are endorsed "Via Southampton". Prior to the opening of the post office at Jask, mail was picked up by authorised ships and taken to the post office at the next port of call and cancelled there.
One of the finest covers from this correspondence is an envelope, dated 10th December 1873, bearing six 1a. brown cancelled by four superb strikes of the "309" in diamond of sixteen bars at Muscat (Lot 2325). Highly attractive, the envelope is estimated HK$14,000 - HK$18,000.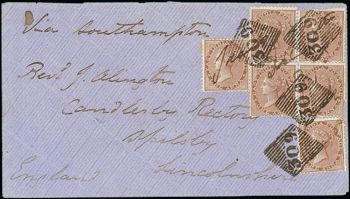 Lot 2325
Estimate: HK$14,000 - HK$18,000
About Spink
Spink is the world's leading auctioneer of stamps, coins, banknotes, medals, bonds & shares, autographs, books and wine. Since its foundation in 1666, the Spink name has become synonymous with tradition, experience and integrity. Holder of royal warrants and numerous records for prices achieved at auction, Spink offers an unparalleled range of services to collectors worldwide. Headquartered in London, with offices in New York, Switzerland, Hong Kong and Singapore, Spink holds over 70 auctions a year. Catalogues can be accessed through the Spink website (www.spink.com) or via the Spink App for iPhone and iPad.
For more information about this auction, please contact:
David Parsons | Spink London | Tel:+44 (0)20 7563 4072 | Fax:+44 (0)20 7563 4085 | Email:[email protected]
Tommy Chau | Spink China | Tel:+852 3952 3000 | Fax:+852 3952 3038 | Email:[email protected]
For press enquiries, please contact:
Ed Rivers
Advertising, Marketing & PR