Following a successful auction offering items from the Singapore Philatelic Museum Handling Collection, Spink Asia held an auction of over 1000 lots of stamps and covers from South East Easia at the Singapore Hilton, 20th September 2014.
Offered amongst rare issues, envelopes and postal history was the award winning collection from Peter Cockbur, Fellow of the Royal Philatelic Society, a meticulously researched and written-up collection covering all aspects of the Revenue collecting side of philately.
Well received was a very rare 1856 entire from the Dutch East Indies, sent to Amsterdam via Singapore (lot 783). Affixed at the foot is an 1854 2a. green marginal strip of four cancelled by a small circle of dots applied in transit from the Dutch East Indies. The entire realised S$38,400.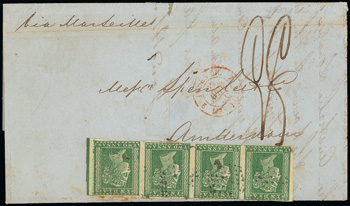 Lot 783
Price Realised: S$38,400
From a notable selection of items from Sarawak, featuring items selected from the Vestey Collection, was an 1860 envelope showing a superb "POST OFFICE/SARAWAK" circular handstamp with manuscript date inserted (lot 1448). Extremely rare and undoubtedly one of the finest frankings from its period, the envelope realised S$19,200.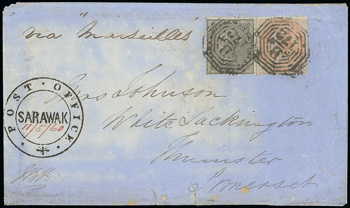 Lot 1448
Price Realised: S$19,200.
Other highlights of the auction included a collection of unused 1890 issues with ranging values (lot 604 - price realised S$14,400), a very rare 1922 Indenture of conveyance for a property in Tenah Merah Kitchil, one of the few recorded examples to bear the MCA $500 (lot 558 - price realised S$9,600) and a rare group of 1868 Judicial Issue imperforate plate proofs (lot 574 - price realised S$9,000)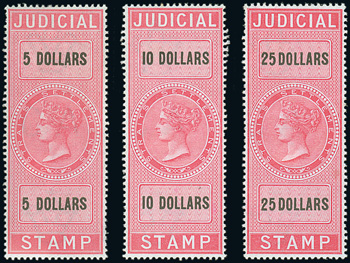 Lot 604
Price Realised: S$14,400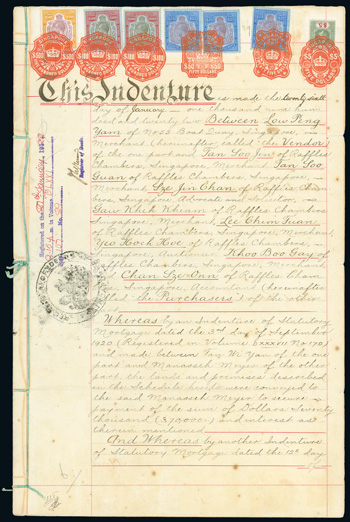 Lot 558
Price Realised S$9,600

Lot 574
Price Realised S$9,000
ABOUT SPINK
Spink is the world's leading auctioneer of stamps, coins, banknotes, medals, bonds & shares, autographs, books and wine. Since its foundation in 1666, the Spink name has become synonymous with tradition, experience and integrity. Holder of royal warrants and numerous records for prices achieved at auction, Spink offers an unparalleled range of services to collectors worldwide. Spink is headquartered in London and holds over 70 auctions a year around the globe. All catlogues are available on our website and through our Spink App for iPhone and iPad.
For press enquiries, please contact:

Ed Rivers
Marketing, Advertisisn & PR