Spink Asia is proud to announce an auction of 'Stamps and Covers of South East Asia' at the Singapore Hilton on 20th September 2014.
Offered with over 1000 lots of South East Asian philately will be the award-winning collection of Straits Settlements and Malayan States Revenue Stamps formed by Peter Cockburn, Fellow of the Royal Philatelic Society. This meticulously researched and written-up collection covers all aspects of the Revenue collecting side of philately.
Auction highlights include an extremely rare mixed-issue franking upon an envelope from the British Post Office in Bangkok (Lot 920). Dated 1884, it is addressed to Germany and bears an 1883 CA 2c. pale rose alongside a Straits Settlements 1882 8c. orange. Both are neatly tied by a fine "Bangkok" postmark (dated 3.6) with an arrival datestamp (6.7) on the reverse. With only three of this type recorded, it is estimated S$50,000 - S$70,000.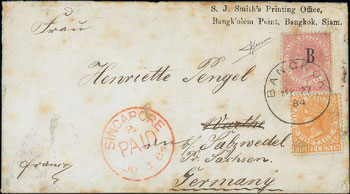 Lot 920
Estimate: S$50,000 - S$70,000
Also featured is one of the two recorded bisect covers addressed to the Dutch East Indies (Lot 784). The entire, dated 1859 from Singapore to Samarang, bears a very rare 1856 4a. black on white paper bisected diagonally and tied by a clear "B/172" postmark. Estimated S$50,000 - S$60,000.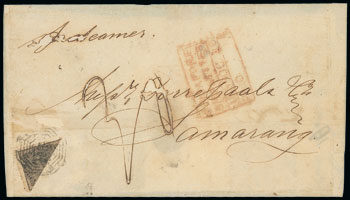 Lot 784
Estimate: S$50,000 - S$60,000
Other highlights include an extremely rare 4c. inverted surcharge variety upon a $10 North Borneo block of four, estimated S$8,000 - S$10,000 (Lot 1302), and a magnificent example of a 1950 $250 composite revenue essay with photographic vignette and handpainted frame (Lot 667). Estimated S$5,000 - S$6,000 (Lot 667).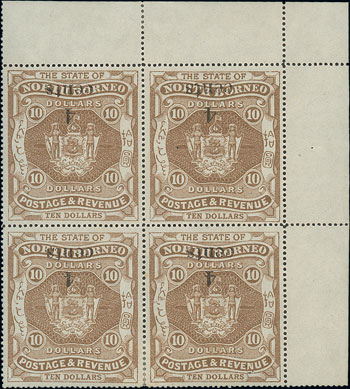 Lot 1302
Estimate: S$8,000 - S$10,000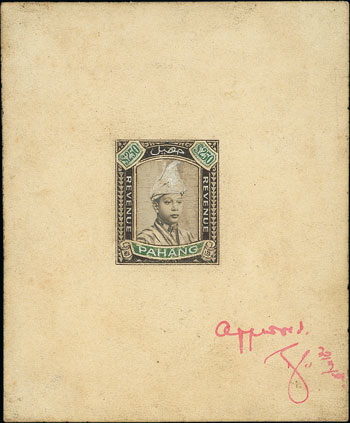 Lot 667
Estimate: S$5,000 - S$6,000
Auction Venue:Vista Room, 3rd Floor, Hilton Singapore, 581 Orchard Road, 238883
Tel: +65 6730 7492
Fax: +65 6730 7491
(Available from Friday 19th September 2014 until Sunday 21st September 2014)
About Spink
Spink is the world's leading auctioneer of stamps, coins, banknotes, medals, bonds & shares, autographs, books and wine. Since its foundation in 1666, the Spink name has become synonymous with tradition, experience and integrity. Holder of royal warrants and numerous records for prices achieved at auction, Spink offers an unparalleled range of services to collectors worldwide. Headquartered in London, with offices in New York, Switzerland, Hong Kong and Singapore, Spink holds over 70 auctions a year. Catalogues can be accessed through the Spink website (www.spink.com) or via the Spink App for iPhone and iPad.
For more information about this auction, please contact:
Nick Startup,Spink London
Tel: +44 (0)20 7563 4079
Fax: +44 (0)20 7563 4085
Email: [email protected]
Gary Tan,Spink Singapore
Tel: +65 6339 8801
Fax: +65 6339 0788
Email: [email protected]
For press enquiries, please contact:
Ed Rivers
Advertising, Marketing & PR