On 25th September 2014, Spink London held an auction of exceptional British philately, specifically selected from the outstanding collection amassed by Lord Vestey and sold by order of the Trustees.
From a choice selection of 258 rarities, items ranged from issues of Queen Victoria through to King Edward VII and King George V. Offering stamps of the upmost rarity and uniqueness, the auction allowed collectors and philatelists the opportunity to own items that rarely come onto the market.
With many lots exceeding estimates, highlights included a very fine example of the very rare and unissued 2d. Tyrian Plum (Lot 35). Due to the death of King Edward, it was decided not to proceed with this issue, so stocks of the 2d. Tyrian Plum were destroyed with only few surviving from the official records. Exceeding its pre-sale estimate, the highly sought-after stamp realised an impressive £67,200.

Lot 35
Price Realised: £67,200
Also on offer was a marginal block of four 1935 Silver Jubilee 2½d. Prussian blue error of colour unmounted mint (Lot 211). With very few multiples of this rare and highly desirable issue existing today, the popular stamp achieved £38,400.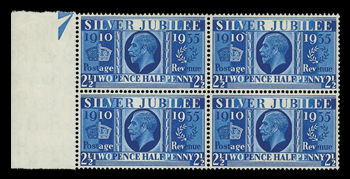 Lot 211
Price Realised: £38,400
Other notable highlights of the sale included one of the finest mint singles of an 1840 2d. Blue ever to be offered (Lot 3). Printed in in a brilliant, almost electric, blue, the stamp surpassed its estimate to achieve £30,000.
Of similar outstanding quality was an attractive example of the rare Inland Revenue Official £1 issue (Lot 229) which realised £31,200)

Lot 3
Price Realised: £30,200

Lot 229
Price Realised: £31,200
On 16th October 2014, Spink will be holding a fourth instalment from the Vestey Collection series; 'Australian Commonwealth from the Vestey Collection'. The auction will feature the King Edward VIII Unissued 2d., which is undoubtedly the greatest rarity in Australian philately.
About Spink
Spink is the world's leading auctioneer of stamps, coins, banknotes, medals, bonds & shares, autographs, books and wine. Since its foundation in 1666, the Spink name has become synonymous with tradition, experience and integrity. Holder of royal warrants and numerous records for prices achieved at auction, Spink offers an unparalleled range of services to collectors worldwide. Headquartered in London, with offices in New York, Switzerland, Hong Kong and Singapore, Spink holds over 70 auctions a year. Catalogues can be accessed through the Spink website (www.spink.com) or via the Spink App for iPhone and iPad.
For more information about this auction, please contact:
Neill Granger | Tel:+44 (0)20 7563 4077 | Fax:+44 (0)20 7563 4085 | Email:[email protected]
For press enquiries, please contact:
Ed Rivers
Advertising, Marketing & PR