In addition to the annual philatelic sale in Singapore, Spink are proud to announce a Sale of Stamps from the Singapore Philatelic Museum Handling Collection, on the 20th September 2014.
Comprising of 52 highly sought-after lots, the auction features complete mint sheets, booklets and Revenue stamps, offering clients to bid for items that rarely come onto the market and the unique opportunity to acquire remarkable items of Singapore philately.
Opening the sale are fourteen lots of complete mint sheets of fifty from the 1955 Definitive Issue. Each lot is estimated S$2,000 - S$2,500.
Lots 1 - 14
Estimate: S$2,000 - S$2,500
The next fourteen lots are complete mint sheets of fifty from the same 1955 Definitive Issue, each overprinted for Training School, estimated S$1,000 - S$1,200. Following on are seven lots of complete sheets of one hundred from the 1968-73 Dancers and Musical Instruments Issue, estimated S$1,200 - S$1,500.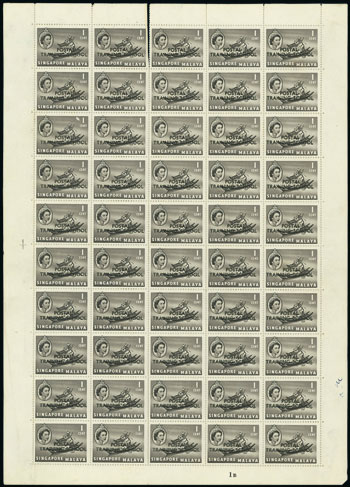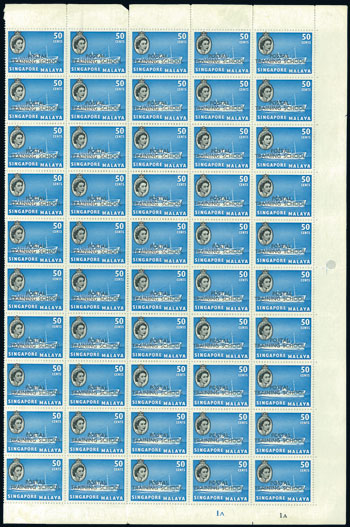 Lots 15 - 28
Estimate: S$1,000 - S$1,200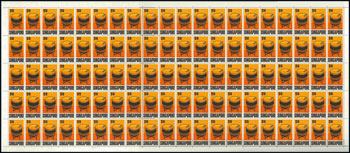 Lot 29 - 30
Estimate: S$1,000 - S$1,500
The auction also contains four lots of the 1969 $1.80 booklet with each lot containing eleven examples, estimated S$200 - S$250 each. Finally on offer will be thirteen lots of the 1954 Revenue $500 in sheets of fifty. Estimates range from S$12,000 - S$15,000 to S$5,000 - S$7,000.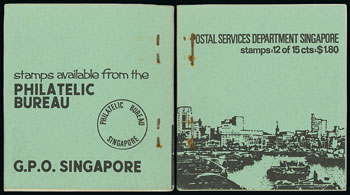 Lot 36 - 39
Estimate: S$200 - S$250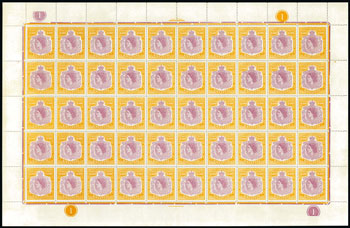 Lot 40 - 52
Estimates range: S$12,000 - S$15,000 to S$5,000 - S$7,000.
Opening its doors in 1995, the Singapore Philatelic Museum communicates an almost 170 year old subject in a fresh and exciting way. Through contemporary techniques and exhibitions, visitors of all ages are able to learn and connect with the evolving story of philately and experience how it has helped to shape the modern world.
Auction Venue:
Vista Room, 3rd Floor, Hilton Singapore, 581 Orchard Road, 238883
Tel: +65 6730 7492
Fax: +65 6730 7491
About Spink
Spink is the world's leading auctioneer of stamps, coins, banknotes, medals, bonds & shares, autographs, books and wine. Since its foundation in 1666, the Spink name has become synonymous with tradition, experience and integrity. Holder of royal warrants and numerous records for prices achieved at auction, Spink offers an unparalleled range of services to collectors worldwide. Headquartered in London, with offices in New York, Switzerland, Hong Kong and Singapore, Spink holds over 70 auctions a year. Catalogues can be accessed through the Spink website (www.spink.com) or via the Spink App for iPhone and iPad.
For more information about this auction, please contact:
Nick Startup, Spink London
Tel: +44 (0)20 7563 4079
Fax: +44 (0)20 7563 4085
Email: [email protected]
Gary Tan, Spink Singapore
Tel: +65 6339 8801
Fax: +65 6339 0788
Email: [email protected]
For press enquiries, please contact:
Ed Rivers
Advertising, Marketing &