On July 9th, Spink London held the second instalment from the important group of auctions to offer the Vestey Collection.
Consisting of 444 rare and high quality items, the auction focused upon philately from Cyprus, Gibraltar, Long Island and Malta, featuring many rare single issue stamps, important essays and proofs and unique errors.
From the selection of Cyprus, highlights included a very rare 1880 1d. Plate 208 pair, one with overprint omitted (Lot 11), which realised £13,200 and an impressive 1934 1p. horizontal strip of six including an imperforate between variety pair (Lot 85), which achieved £16,800.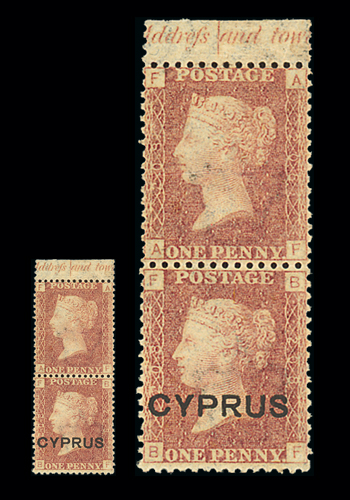 Lot 11
Price Realised: £13,200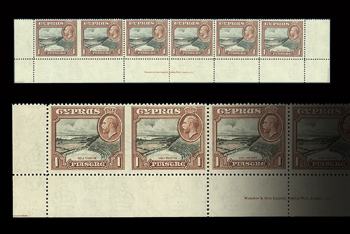 Lot 85
Price Realised: £16,800
Amongst the range of Gibraltar philately was a rare marginal plate number example of the 1889 10c. carmine, variety value omitted (Lot 119), which achieved £7,200 and an extremely rare £5 violet and black imperforate plate proof block of four that realised £13,200 (Lot 189).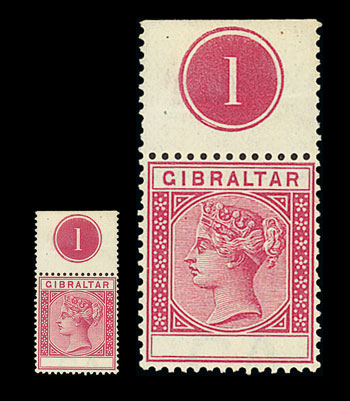 Lot 119
Price Realised: £7,200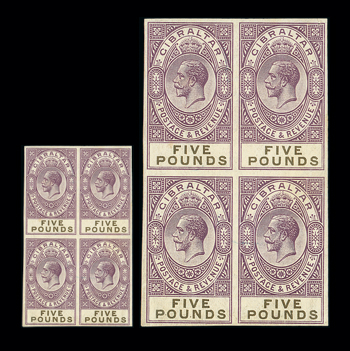 Lot 189
Price Realised: £13,200
Following this was a remarkable section of Long Island issues, many containing errors and varieties. Very popular were a 1916 First Issue trio of surcharges on Turkish Fiscals stamps captured by a landing party from'H.M.S. Doris'(Lot 229, 230 and 231), with each item exceeding its estimate, they individually realised between £4,800 and £6,000.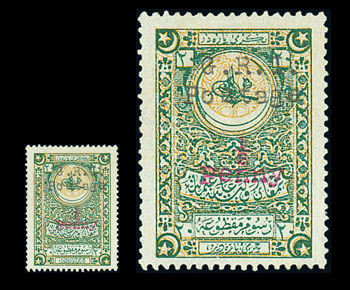 Lot 229
Price Realised: £6,000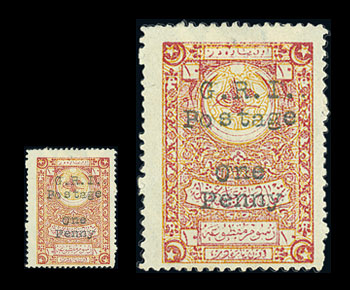 Lot 230
Price Realised: £4,800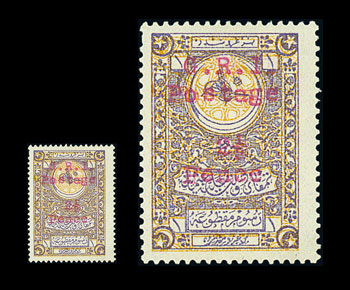 Lot 231
Price Realised: £6,000
Amongst the errors of the Long Island issues was an extremely rare 1916 6d. blue, Plate 2, horizontal strip of three (Lot 308). Not only was the example printed se-tenant, with 6d. on either side of the 2d. issue, but it also contained the misspelling 'ISLND' for 'ISLAND', it achieved £15,600.

Lot 308
Price Realised: £15,600
The sale concluded with issues from Malta. Highlights included a superb 1902 "One Penny" on 2½d. dull blue provisional marginal pair (Lot 355), both stamps with surcharge double and the right-hand stamp with the 'One Pnney' error. This unique multiple realised an outstanding £43,200 and was the star item of the auction.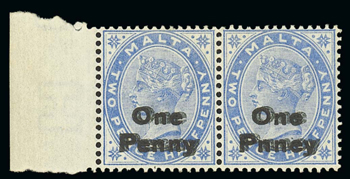 Lot 355
Price Realised: £43,200
About Spink
Spink is the world's leading auctioneer of stamps, coins, banknotes, medals, bonds & shares, autographs, books and wine. Since its foundation in 1666, the Spink name has become synonymous with tradition, experience and integrity. Holder of royal warrants and numerous records for prices achieved at auction, Spink offers an unparalleled range of services to collectors worldwide. Headquartered in London, with offices in New York, Switzerland, Hong Kong and Singapore, Spink holds over 70 auctions a year. Catalogues can be accessed through the Spink website (www.spink.com) or via the Spink App for iPhone and iPad.
For Press Enquiries, Please Contact:
Ed Rivers
Advertising, Marketing & PR