Spink is proud to announce that the July Philatelic Collector's Series Sale will feature an award winning collection of Postal History, formed by Greg Francis, and exceptional Rhodesia issues from Cliff Wheatley.
Commencing with a fine selection from Great Britain, the first session will include over 70 lots of 1840 Penny Blacks, a wonderful group of Queen Elizabeth II errors and varieties with many rarities. Amongst these highlights is an attractive example of a £5 orange CB unmounted mint, estimated £6,000 - £8,000 (Lot 1136), and a rare example of a 1963 Red Cross Centenary 3d. issue with omitted red, estimated £11,000 - £12,000 (Lot 1225)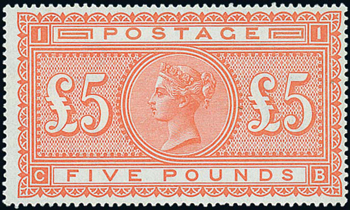 Lot 1136
Estimate: £6,000 - £8,000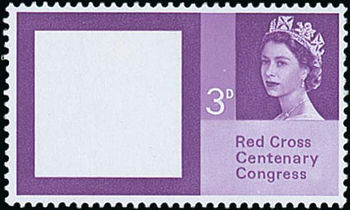 Lot 1225
Estimate: £11,000 - £12,000
After the morning session, Spink will offer the Greg Francis award winning collection of the Postal History of the Province of Otago and New Zealand.
A notable item within the collection is an envelope from Whitby sent by ship to 'Kawhia Waikato', dated 6th December 1849 (Lot 1324). The cover, displays postal marks from Whitby, York (5.8), London (6.8), London Ship Letter (6.8) and Nelson (30.12) c.d.s spread across the cover. It also contains a superb strike of the exceptionally rare "P.O. Otago,/Dec 6, 1849." datestamp. Estimated £4,000 - £5,000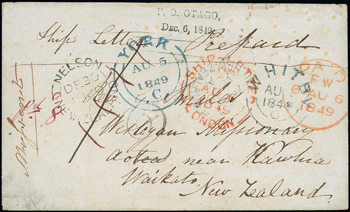 Lot 1324
Estimate: £4,000 - £5,000
The afternoon session will feature philately from the Falkland Islands, Niger Coast, North Borneo and a selection of exceptional Rhodesia issues, including pristine and attractive example of the iconic 1910-13 Rhodesia Double Head issue, estimated £6,000 - £7,000 (Lot 2145)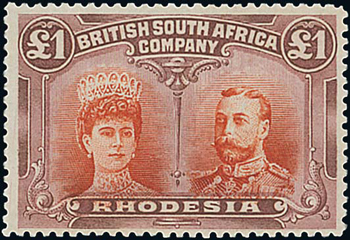 Lot 2145
Estimate: £6,000 - £7,000
The auction concludes with Foreign Countries and Collections and Ranges, including an exceptionally rare 1932-38 20L. perforated horizontal strip of three from Italian Somaliland (Lot 2441), estimated £7,000 - £9,000.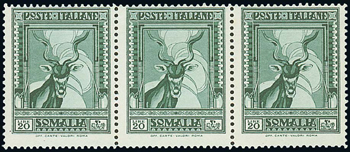 Lot 2441
Estimate: £7,000 - £9,000
About Spink
Spink is the world's leading auctioneer of stamps, coins, banknotes, medals, bonds & shares, autographs, books and wine. Since its foundation in 1666, the Spink name has become synonymous with tradition, experience and integrity. Holder of royal warrants and numerous records for prices achieved at auction, Spink offers an unparalleled range of services to collectors worldwide. Headquartered in London, with offices in New York, Switzerland, Hong Kong and Singapore, Spink holds over 70 auctions a year. Catalogues can be accessed through the Spink website (www.spink.com) or via the Spink App for iPhone and iPad.
For Press Enquiries, Please Contact:
Ed Rivers
Advertising, Marketing & PR