On June 17th, Spink London will hold a philatelic sale of Rhodesia Arms and Admiral Issues from the Vestey Collection, the first in a series of ten auctions to be sold by order of the trustees over the next eighteen months.

The 342 lot auction opens with a selection of Rhodesia Arms Issues from the late 19th Century. Highlighted items include lot 24, an 1896 unique 4d. horizontal pair on a Cape issue with "COMPANY" omitted. Estimated at £10,000 - £12,000, this is the only recorded multiple of this very rare and important variety.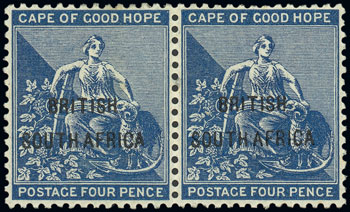 Lot 24
Estimate: £10,000 - £12,000
Another example of the Arms Issues on offer is lot 32, a £20 yellow-bistre marginal horizontal strip of four from the foot of the sheet. Printed in fresh bright colour, this rare multiple is estimated £15,000 - £20,000.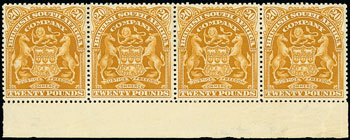 Lot 32
Estimate: £10,000 - £12,000
The main section of the auction is devoted to the Admiral issue, an outstanding selection with essays, colour trials and issued stamps with a range of multiples, many that have not been seen since the Gibbs sale of 1988.
Highlights include lot 88, a 1½ d. perf. 15 horizontal pair imperforate between, S.G. 206a. This particular example is believed to be unique and is the basis for the S.G. listing. Estimated £15,000 -£18,000.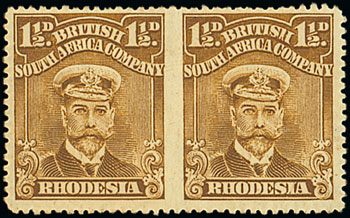 Lot 88
Estimate: £15,000 - £18,000
The star of the Rhodesia Admiral issues is lot 309, a 1-/ black and dull blue marginal block of four from the foot of the sheet with full imprint. The vertical pairs variety imperforate between is estimated £20,000 - £25,000.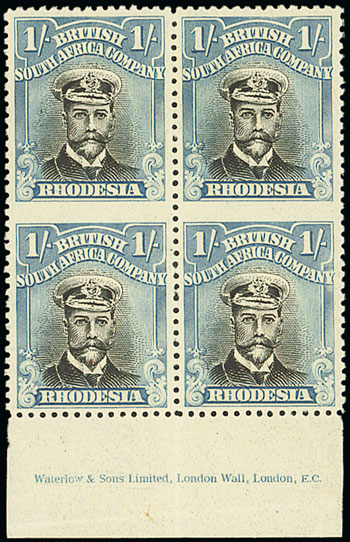 Lot 309
Estimate: £20,000 - £25,000
Spink London will be holding two more philatelic sales on the following two days; The "Garrison" Collection of New Guinea "G.R.I." Surcharges on June 18th and The "Lionheart" Collection of Great Britain and British Empire - Part III on June 19th.
About Spink
Spink is the world's leading auctioneer of stamps, coins, banknotes, medals, bonds & shares, autographs, books and wine. Since its foundation in 1666, the Spink name has become synonymous with tradition, experience and integrity. Holder of royal warrants and numerous records for prices achieved at auction, Spink offers an unparalleled range of services to collectors worldwide. Headquartered in London, with offices in New York, Switzerland, Hong Kong and Singapore, Spink holds over 70 auctions a year. Catalogues can be accessed through the Spink website (www.spink.com) or via the Spink App for iPhone and iPad.
For Press Enquiries, Please Contact:
Ed Rivers
Advertising, Marketing & PR