21st May, Spink USA sold one of the most recognised and desirable errors in all American philately, the 24c. Inverted Jenny.
Sold in a single lot auction, the rare error from the J. E. Safra collection attracted Philatelists and Collectors to the scarce opportunity.
The remarkable stamp is one of the finest and best preserved of the five recorded mint never hinged examples, featuring a beautifully rich and colourful print upon clean crisp paper which is complete with original gum.
With substantial interest from bidders via telephone and in the room, the bidding reached an impressive realised price of $575,100.
Specialist George Eveleth, commented "The J. E. Safra example of the 24c. Inverted Jenny is arguably the most exciting of all the surviving singles. Its incredible overall freshness, pristine original gum and premium centering make it one of the most, if not the most, desirable examples of this storied rarity"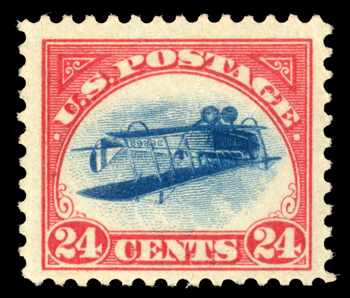 Lot 1001
Realised Price $575,100
(INCLUDING BUYER'S PREMIUM)
About Spink
Spink is the world's leading auctioneer of stamps, coins, banknotes, medals, bonds & shares, autographs, books and wine. Since its foundation in 1666, the Spink name has become synonymous with tradition, experience and integrity. Holder of royal warrants and numerous records for prices achieved at auction, Spink offers an unparalleled range of services to collectors worldwide. Headquartered in London, with offices in New York, Switzerland, Hong Kong and Singapore, Spink holds over 70 auctions a year. Catalogues can be accessed through the Spink website (www.spink.com) or via the Spink App for iPhone and iPad.
For Press Enquiries, Please Contact:
Ed Rivers
Advertising, Marketing & PR