On 14th May 2014, Spink London held an auction of "Specialised Great Britain Stamps and Postal History".
This was the first of two auctions, within a week, to showcase the finest and most intriguing British items available in the collectable stamp market.
The auction offered 959 lots that ranged from Mulready envelopes to rare errors as well as a wide selection of One Penny Blacks.
The auction began with an assortment of Postal History and many rare and important items from Ireland.
A highlight of the morning was lot 74, an entire letter from Maorim (British Guiana) to London.
Dated 2nd March 1845, it is endorsed 'p Swordfish' with a fine strike of the fancy scroll 'Ship Letter' and '2' in the same colour.
An attractive example of a rare entire, it is complete with dates of transit (Dublin, 26th April) and arrival (London, 27th April). It realised £1,680.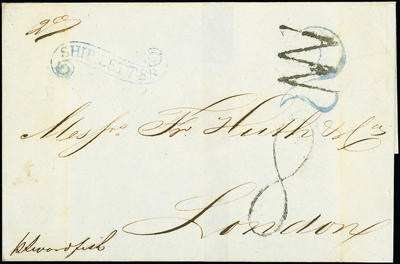 Lot 74
Price Realised: £1,680
Amongst the array of 250 Penny Blacks on offer was lot 310, a rare and impressive block of six 1840 Penny Blacks.
With close to large margins all round, it is stamped by crisp red Maltese Cross cancellations.
The fine 3 x 2 block doubled its estimate to achieve £11,400.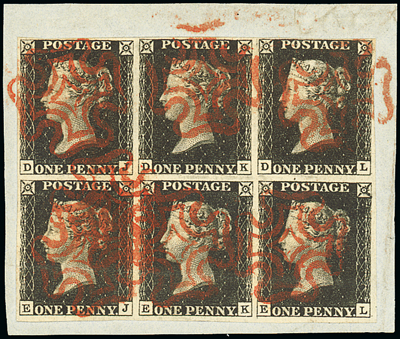 Lot 310
Price Realised: £11,400
Another highlight was lot 504, a 1d. rose-red imperforate with corner margins displaying the plate number (plate 66).
Still containing a large part of its original gum, the stamp has large to very large margins as well as a full deckled edge.
With exceptionally fresh colour, it is a beautiful example of a very scarce error and an exhibition worthy piece. It realised £6,600.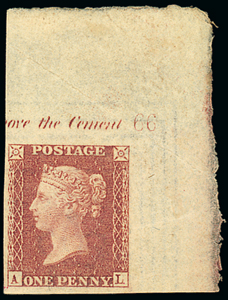 Lot 504
Price Realised: £6,600
The auction also offered a good group of Queen Elizabeth errors, such as lot 796, an unmounted mint vertical pair.
The lower of the two stamps has turquoise-green omitted from the printed illustration, making it unique example amongst types of its kind.
Achieving £18,000, the intriguing error was the highest earning lot of the day.

Lot 796
Price Realised: £18,000
Spink Specialist and CEO of the auction, Guy Croton, commented "Fantastic prices with rare stamps continuing to show strength and growth, especially when in exceptional quality."
Tomorrow, Spink London will hold another sale of Great British stamps in the "J. E. Safra Collection of Classic Great Britain Rarities", including 1840 One Penny Blacks, 1840 Two Penny Blues and the famous King George V 1d. Tête-Bêche pair.
About Spink
Spink is the world's leading auctioneer of stamps, coins, banknotes, medals, bonds & shares, autographs, books and wine. Since its foundation in 1666, the Spink name has become synonymous with tradition, experience and integrity. Holder of royal warrants and numerous records for prices achieved at auction, Spink offers an unparalleled range of services to collectors worldwide. Headquartered in London, with offices in New York, Switzerland, Hong Kong and Singapore, Spink holds over 70 auctions a year. Catalogues can be accessed through the Spink website (www.spink.com) or via the Spink App for iPhone and iPad.
For Press Enquiries, Please Contact:
Ed Rivers
Advertising, Marketing & PR