On May 14th and 15th, Spink London will hold two separate stamp auctions that will excite Philatelists and Collectors alike.
Beginning with an auction of "Specialised Great Britain Stamps and Postal History" on 14th May.
The sale consists of 959 collectable items from Great Britain, ranging from Mulready envelopes to rare errors. It also offers a wide selection of One Penny Blacks.
Highlights include lot 449, a trial cancellation of a "V.R." Official Penny Black. This rare example is attractive and in good condition. Estimated £16,000 - £20,000, it is the most valuable of the 250 lots of Penny Blacks on offer.
Lot 449
Estimate: £16,000 - £20,000
Another notable item is lot 466, a One Penny Red-Brown on a very early Submarine telegraph. Printed in red, the envelope is addressed to Bath with "From Dover Station/23rd day of Feby 1852/IMMEDIATE"completed by hand.
The lot is complete with its telegraphic cross Channel message, addressed to Mr and Mrs Taylor with "affectionate and very best wishes" for their journey to India.
The date which this telegraph was sent indicates that it was dispatched just over 3 months after the submarine line was opened to the public.
Estimated £10,000 - £15,000, it is a cover of major importance in the field of transport and communication.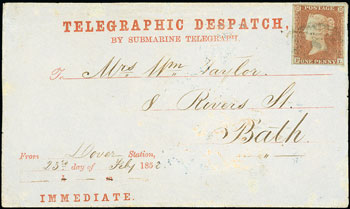 Lot 466
Estimate: £10,000 - £15,000
Towards the end of the sale, lot 791, a block of eighteen Christmas stamps features an intriguing error from the printing process.
From the upper left corner of the sheet, seven of the eighteen have omitted gold portraits. Due to a pre-printing paper fold, the gold portraits have been printed on the reverse. A fine and beautiful example of an error, it is estimated £20,000 - £25,000.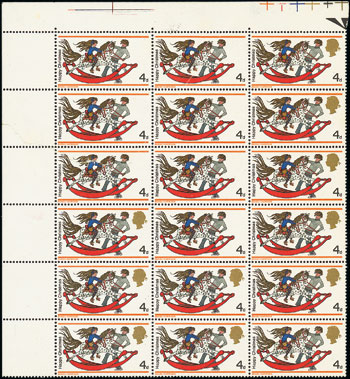 Lot 791
Estimate: £20,000 - £25,000
The next day, May 15th 2014, Spink London will hold 'The J. E. Safra Collection of Great Britain Rarities".
Offering 91 high quality lots, the auction showcases many rare and beautiful items which haven't been seen on the open market for over twenty years.
Amongst the highlights is lot 1005, an 1840 Mulready with a franked One Penny Black. This envelope was used on the first day of issue and is in excellent condition. Displaying its issued "May Date", it is one of only six recorded. Estimated at £50,000 - £70,000.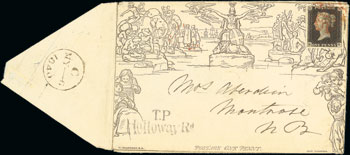 Lot 1005
Estimate: £50,000 - £70,000
Lot 1081 presents a fresh and highly attractive example of an 1840 Two Pence Blue mint block of four.
Still including part of its original gum, the specimen has good to large margins all round. A great line engraved rarity, the block is in remarkable exhibition quality and is estimated £60,000 - £80,000.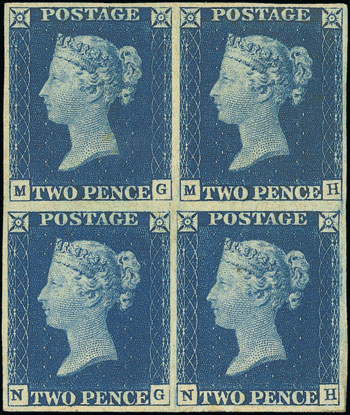 Lot 1081
Estimate: £60,000 - £80,000
The J. E. Safra Collection of Great Britain Rarities concludes with lot 1091, the finest of the three known King George V Watermark Simple Cypher 1d. scarlet tête-bêche pairs.
Dated 1912-24, the stamps are the finest out of four known recorded examples in private hands.
A great rarity from the reign of King George V, it is estimated £40,000 - £50,000.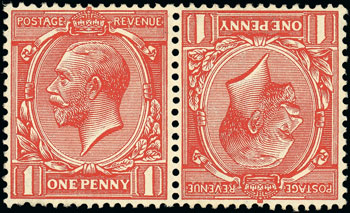 Lot 1091
Estimate: £40,000 - £50,000
About Spink
Spink is the world's leading auctioneer of stamps, coins, banknotes, medals, bonds & shares, autographs, books and wine. Since its foundation in 1666, the Spink name has become synonymous with tradition, experience and integrity. Holder of royal warrants and numerous records for prices achieved at auction, Spink offers an unparalleled range of services to collectors worldwide. Headquartered in London, with offices in New York, Switzerland, Hong Kong and Singapore, Spink holds over 70 auctions a year. Catalogues can be accessed through the Spink website (www.spink.com) or via the Spink App for iPhone and iPad.
For Press Enquiries, Please Contact:
Ed Rivers
Advertising, Marketing & PR