On the 14th of April, Spink London auctioned The Drs. Joanne and Edward Dauer Collection of Great Britain, the second collection sold on their behalf by Spink this year.
The sale offered some of the rarest stamps of Great Britain from Queen Victoria to King George IV.
An early highlight of the auction was lot 7, a two pence blue in violet-blue upon lavender tinted paper. The stamp was printed with an exceptionally fresh colour and was dated 1851. It realised a price of £21,600 (including buyer's premium).

Lot 7
Price Realised: £21,600
Amongst the examples of the auction was lot 53, a 10/- issue flawlessly printed with the extremely rare shade; cobalt. Exceeding its estimated value, the lot realised a price of £24,000 (including buyer's premium).

Lot 53
Price Realised £24,000
The star lot of the Dauer sale went to lot 93, a very rare example of a £1 stamp dated 1884-88. Printed in light brown lilac and framed with good perforations, this stamp had a fresh colour with and was in brilliant condition. It achieved an impressive £54,000 (including buyer's premium).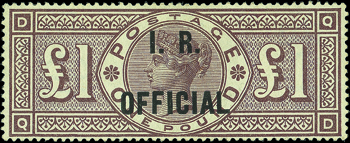 Lot 93
Price Realised £54,000
ABOUT SPINK
Spink is the world's leading auctioneer of stamps, coins, banknotes, medals, bonds & shares, autographs, books and wine. Since its foundation in 1666, the Spink name has become synonymous with tradition, experience and integrity. Holder of royal warrants and numerous records for prices achieved at auction, Spink offers an unparalleled range of services to collectors worldwide. Spink is headquartered in London and holds over 70 auctions a year around the globe. All catalogues are available on our website and through our Spink App for iPhone and iPad.
For high resolution images please contact;
Ed Rivers
Advertising, Marketing & PR