During the 15th, 16th and 17th of April, Spink London will be holding a sale of World Banknotes comprised of over 2,200 lots from a vast array of countries. The three day auction is the biggest sale of its kind Spink has held.
Packed with hundreds of issued notes, colour trials, composite essays, die proofs and specimens, the sale will be spilt into two catalogues; the first two days devoted to World Banknotes and the final day featuring British Banknotes.
Spink Banknote Specialist, Barnaby Faull, commented;
"Collectors would love the opportunity to display their collection from the original composite essay, the die proof, to the colour trial, the specimen and finally the issued note, altogether it is a logical and beautiful progression."
Highlights of the auction include lot 321, a 500 Florins, dated 1920, from The East African Currency Board. This archival specimen is printed in dark blue and mauve brown upon a multicolour under print. This note is the highest denomination of its iconic series and is in superb condition. It is probably the only example of its type in existence and is estimated to realise £12,000 - £16,000.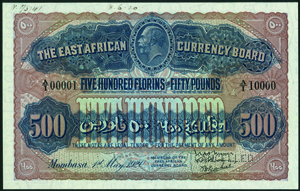 Lot 321
Estimate: £12,000 - £16,000
The huge sale also showcases many unique, unknown and unrecorded items; for example lot 420, a specimen proof of £10 from The National Bank of Egypt.
This specimen was designed and prepared for issue in 1952 for King Farouk but due to the revolution and consequent abdication, it was never released. Printed in purple and scarlet upon a multi-coloured under print, it features an image of the King on the obverse and the ruins at Karnak with a sphinx on other side. This amazing find is thought to be unique, estimated £15,000 - 20,000.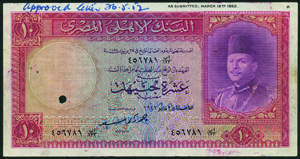 Lot 420
Estimate: £15,000 - £20,000
Another rarity is lot 669, a 10 Rupees issued by The Government of India, dated June 8 1863. This is one of the first series of notes put into circulation by the Government of India after the Paper Money Act of 1861. The black and white note is printed with a charming portrait of Queen Victoria with a wreath of Oak and Bay. This series represents the only uniface notes in the world to feature a portrait of Queen Victoria.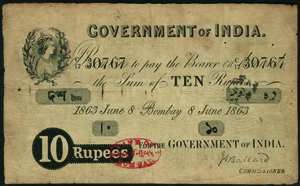 Lot 669
Estimate: £30,000 - £35,000
The third sale will focus upon banknotes from Britain. A noteworthy item in this session is lot 1876, 10 shillings with an extremely low serial number A01 000005. Printed in red, it features a portrait of Elizabeth II at the right and Britannia at the centre left and reverse centre. The note comes complete with a leather presentation case embossed with a gold Britannia. This very rare item is estimated to realise £2,000 - £2,500.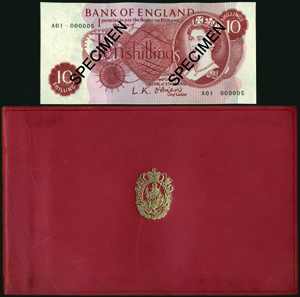 Lot 1876
Estimate: £2,000 - £2,500
ABOUT SPINK
Spink is the world's leading auctioneer of stamps, coins, banknotes, medals, bonds & shares, autographs, books and wine. Since its foundation in 1666, the Spink name has become synonymous with tradition, experience and integrity. Holder of royal warrants and numerous records for prices achieved at auction, Spink offers an unparalleled range of services to collectors worldwide. Spink is headquartered in London and holds over 70 auctions a year around the globe. All catalogues are available on our website and through our Spink App for iPhone and iPad.
For high resolution images please contact;
Ed Rivers