On the 14th of April, Spink London is pleased to offer The Drs. Joanne and Edward Dauer Collection of Great Britain, a sale consisting of over 100 lots including some of Britain's rarest stamps.
Dr Joanne and Dr Edward Dauer have compiled their collection with guidance of Sonny Hagendorf of the Columbian Stamp Company. As their exclusive agent, Hagendorf selected every stamp to create a collection of the highest quality.
A noteworthy item of this collection is lot 7, an impressive two pence blue printed in violet-blue upon lavender tinted paper, dated 1851. This is a fine example of this rare and sought-after shade. Estimated at £10,000.

Lot 7
Estimate £10,000
A further highlight of the auction is lot 53, a 10/- with part original gum. The stamp is flawlessly printed in cobalt which is an extremely rare shade amongst stamps of its type.
Spink Stamp Specialist Guy Croton commented that this specimen is, "One of the finest examples of this extremely rare shade we have ever seen".
The stamp is estimated £20,000.

Lot 53
Estimate £20,000
The latter part of the Dauer collection features lot 93, a very rare example of a £1 stamp dated 1884-88, printed in fresh brown lilac. It is marked with 'I.R. OFFICIAL' (Inland Revenue) and also includes part of its original gum.
Framed with good perforations, the stamp is free from the typical myriad of faults usually associated with long high values.
The impressive stamp combines quality with a fresh colour and carries the highest estimate in the sale at £35,000.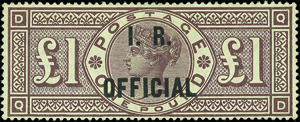 Lot 93
Estimate £35,000
ABOUT SPINK
Spink is the world's leading auctioneer of stamps, coins, banknotes, medals, bonds & shares, autographs, books and wine. Since its foundation in 1666, the Spink name has become synonymous with tradition, experience and integrity. Holder of royal warrants and numerous records for prices achieved at auction, Spink offers an unparalleled range of services to collectors worldwide. Spink is headquartered in London and holds over 70 auctions a year around the globe. All catalogues are available on our website and through our Spink App for iPhone and iPad.
For high resolution images please contact;
Ed Rivers
Advertising, Marketing & PR