On March 27th, Spink sold the finest known example of the Reddite, an extremely rare silver Crown for a world record breaking price of £396,000.
The Reddite Crown is from the second part of the Glenister collection and is the twin of the The Petition Crown, which sold for £207,000 at Spink in 2007.
The Reddite, a superb pattern crown of 1663 was designed by Thomas Simon and carried a pre-sale estimate of £100,000-£120,000. Having received much attention from collectors and dealers, the Reddite was sold to a telephone bidder for £396,000 (including buyer's premium). This set new world records for both an English Crown and an English silver coin.
The sale realised £1,275,000.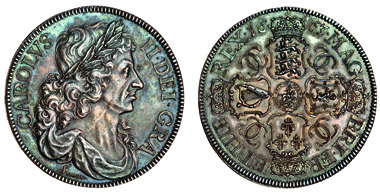 Lot 1627
Price realized: £396,000
ABOUT SPINK
Spink is the world's leading auctioneer of stamps, coins, banknotes, medals, bonds & shares, autographs, books and wine. Since its foundation in 1666, the Spink name has become synonymous with tradition, experience and integrity. Holder of royal warrants and numerous records for prices achieved at auction, Spink offers an unparalleled range of services to collectors worldwide. Spink is headquartered in London and holds over 70 auctions a year around the globe. All catalogues are available on our website and through our Spink App for iPhone and iPad.
For high resolution images please contact;
Ed Rivers