During the 12th and 13th of March, Spink London held two philatelic sales showcasing postal history from the late 1800's, selling thousands of pounds worth of perforated issues, important blocks, fascinating forgeries and rare errors.
Starting off the two strong sales was 'The Anglo-Boer War, Featuring Occupation and Siege Issues, The Harry Birkhead Collection'. This was the finest and the most comprehensive collection of mail relating to sieges of the Anglo-Boer War (1899-1902)
The sale was popular with clients who have been waiting years for this collection to come to the market place.
Featured among the highlights was lot 228, a 3d. pale blue on blue variety reversed design printed from a glass plate during the siege of Mafeking. Only ten of the twelve examples have been recorded to date, with three in the Royal Philatelic collection.
Selling for an outstanding record of £40,800, it was the sale's star item; it generated a lot of interest both in the auction room and from buyers online via Spink Live.

Lot 228
Price Realised: £40,800
Other highlights included lot 185, a fine and rare example of a 1/- on 4d. green and purple brown, variety surcharge double, realising a price of £7,200
and lot 238, a rare and neatly cancelled 3d. pale blue on blue imperforate between stamp and margin variety, selling for £8,480.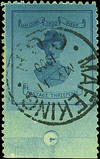 Lot 238
Price realised £7,200
All 427 lots were sold, which according to Spink specialist David Parsons is "a rare accomplishment in today's market place".
The following day, Spink London held a sale of 'The Foxley' Collections of British Guiana and British Honduras.
Formed over a 50 year period by a member of the Royal Philatelic Society, the large and diverse collections brought attention from bidders across the globe through its wide ranging selection of stamps and postal history.
The sale was split in two, the morning devoted to British Guiana and the afternoon to British Honduras.
The morning session had solid competition from buyers both online and in the room.
Highlights of this session included lot 1062. A unique and magnificent 4c. complete die proof, achieving a superb realised price of £13,200. It doubled its original estimate, much like many other lots featured in the collection.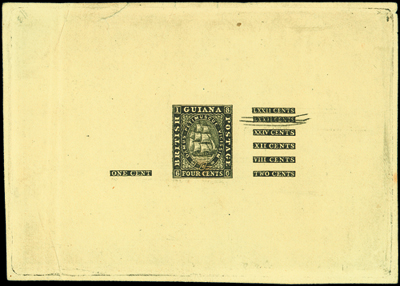 Lot 1062
Price realised £13,200
Lot 1433 had a lot of interest from bidders and in particular on Spink Live. A 1934 4c. slate-violet vertical pair variety imperforate stamps, originally part of a sheet of 60 comprised of 30 error pairs. The extremely rare imperforate was sold for £14,400.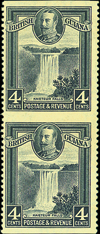 Lot 1433
Price realised £14,400
The afternoon session focused upon British Honduras which equally matched the excitement of the morning session.
The most outstanding item was lot 1563, a very rare envelope addressed to the USA, bearing 6d. rose. This remarkable item achieved a brilliant £11,00 in auction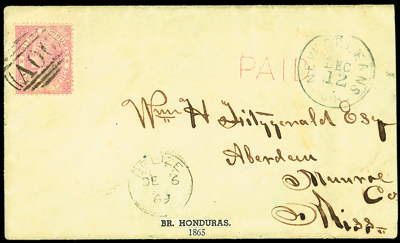 Lot 1563
Price realised 11,000
ABOUT SPINK
Spink is the world's leading auctioneer of stamps, coins, banknotes, medals, bonds & shares, autographs, books and wine. Since its foundation in 1666, the Spink name has become synonymous with tradition, experience and integrity. Holder of royal warrants and numerous records for prices achieved at auction, Spink offers an unparalleled range of services to collectors worldwide. Spink is headquartered in London and holds over 70 auctions a year around the globe. All catalogues are available on our website and through our Spink App for iPhone and iPad.
For high resolution images please contact;
Ed Rivers