Spink London takes their first steps into Spring with two high quality stamp auctions showcasing moments of ephemeral postal history from the late 1800's.
Wednesday 12th March will begin the two days of Philatelic sales with "Anglo-Boer War, 1899 - 1902 Featuring Occupation & Siege Issues; "The Harry Birkhead Collection".
The collection was formerly the late Harry Birkhead, Honorary Life President of the Philatelic Federation of South Africa and Honorary Life Member of the Anglo-Boer War Philatelic Society.
Harry Birkhead was a top collector, researcher and exhibitor of this topic. His collection of Anglo-Boer War is one of the finest and most comprehensive collections of mail relating to the sieges of the Anglo-Boer War and the local or 'town' stamp issues of the war ever to be formed and brought together.
Each item within this collection tells a story, such as with Lot 206, an envelope front "via Beria" to England. Mail and letters such as this one were intercepted out of Mafeking, the runners delivering this mail were shot and the letters were attached to their bodies and left to be found the next morning near the defence lines. It is estimated for £400 - £500.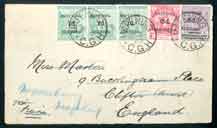 Lot 206
Estimate: £400 - £500.
The Birkhead Collection also holds unique rarities such as Lot 228. 3d. pale blue on blue variety reversed design neatly cancelled with 27 April c.d.s. There are only ten examples of this stamp known (of which this is the earliest recorded), three mint and seven used, with only seven in private hands, this example is undoubtedly the finest of the five examples in private hands, of Mafeking, estimated for £35,000 - £45,000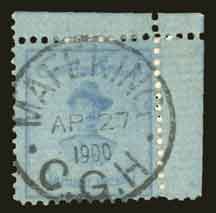 Lot 228
Estimate: £35,000 - £40,000
In homage to Baden Powell, Lot 243 is a £1 note issued during the Siege of Mafeking. It is printed in deep blue on "Bassendean/Vellum/Loft Dried" paper accompanied with serial no. 544. A beautifully printed illustration of the Mafeking Siege preserves that particular moment in time, estimated to reach between £400 - ­­­­£500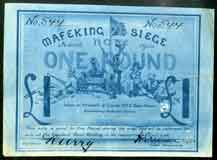 Lot 243
Estimate: £400 - ­­­­£500
Lastly the spectacular Lot 360 shows the variety of items up for sale. A rose-red and green block of sixteen (8x2) with original gum is none other than a spectacular show piece multiple, the largest recorded block of any Wolmaransstad hand stamped provisional. It is estimated £2,500 - £3,000.

Lot 360
Estimate: £2,500 - £3,000
The following day, Spink will offer The "Foxley" Collection of British Guiana and British Honduras.
This sale presents two fine collections formed and assembled over a 50 year period. The collections together create a broad selection of stamps and postal history which are supported by many rare essays, proofs and specimens as well as revenues, forgeries and rare cancellations from provenances going back as far as Seybold (1859 - 1909), Lord Crawford (1847 - 1913) and Manus (1851 - 1931).
Of particular note, Lot 1062. An 1860 complete die proof with value tablets for the 1c., 2c., 8c., 12c., 24c. and the unissued 72c. The provenance of which was the Earl of Crawford. This uniquely magnificent proof is estimated at £5,000 - £6,000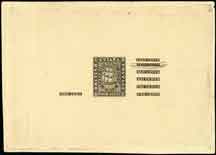 Lot 1062
Estimate: £5,000 - £6,000
One of the oldest Lots in the auction is Lot 1013, an entire letter dating back to 1813 from Berbice to Belfast with an unrecorded date stamp. This is the only recorded example. This unique item is estimated at £800 - £1,000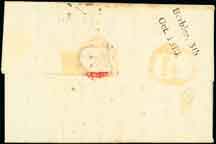 Lot 1013
Estimate: £800 - £1,000
Another magnificent Lot up for auction is Lot 1387. A trio of £2 stamp composite essays part hand painted with a vignette of King Edward in an oval lined background. The exquisite threesome are estimated ay £6,000 -£8,000.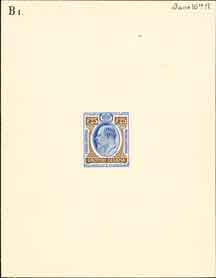 Lot 1387
Estimate: £6,000 -£8,000
ABOUT SPINK
Spink is the world's leading auctioneer of stamps, coins, banknotes, medals, bonds & shares, autographs, books and wine. Since its foundation in 1666, the Spink name has become synonymous with tradition, experience and integrity. Holder of royal warrants and numerous records for prices achieved at auction, Spink offers an unparalleled range of services to collectors worldwide. Spink is headquartered in London and holds over 70 auctions a year around the globe. All catalogues are available on our website and through our Spink App for iPhone and iPad.
For high resolution images please contact;
Ed Rivers