On the 25th of January, Spink Switzerland paid homage to all types of philatelic treasures in 3 notably successful sales, selling hundreds of thousands worth of remarkable stamps, covers, autographs and postal history, going beyond expectations.
The philately began with a diverse Collector's Series Sale encompassing a massive 1192 lots. The sale featured a number of splendid highlights from around the world, with some estimates being greatly surpassed as rarities passed on to new owners.
Of note, Lot 1, an outer cover endorsed "postpaid" (March 30, 1871), exhibiting a superb impression of the "FALKLAND/PAID" frank marking, accompanied by a further "Blank Frank" strike on piece. Undoubtedly one of the finest "Blank Frank" covers in existence achieved a brilliant €11,000 in auction.
Lot 1
Price Realised:
€11,000
Lot 142, 1849 1fr light carmine on yellowish Tête-bêche. The spectacular and unused pair, which has graced several of the finest collections of French stamps ever formed, is widely regarded as one of the greatest 1849-50 Cérès issues tête-bêche rarities extant, with only four unused examples recorded, realizing an impressive €130,000 in auction.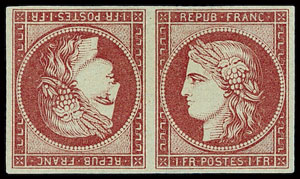 Lot 142
Price Realised:
€130,000
Next up at Spink Lugano, was "Sicily - Selection of Rarities". Set in a crowded room, the auction captured the buyers' attention with beautiful and rare items.
An eye-catching highlight of the sale was Lot 509, a letter from Messina to Bavaria, dated 17th June 1860. Franked with 6 different plates, the cover contains intriguing copy discussing the campaign of Garibaldi, which is enhanced by its distinctive and strong visual effect created by six colours from the postal stamps. The striking Lot sold for an equally striking €46,000.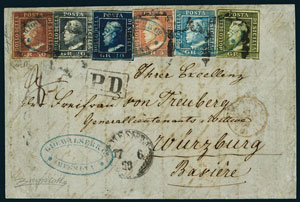 Lot 509
Price Realised:
€46,000
Rounding off a series of sales that, as quoted by the Director of Philately in Spink Switzerland, Fernando Martinez, "Exceeded the optimistic opportunities", was "Switzerland - Selection of Classic Philately"
Lot 600 - "Zürich 4"its background of horizontal lines, types I & II, as well to it having its original gum, the remarkable freshness (enabling the background to be so clearly pronounced) makes it one of the finest of only six unused pairs known. This one such example is also undoubtedly one of the finest and significant to still have its original gum preserved. It received SFr 75,000 in auction, adding to agreat day in sales.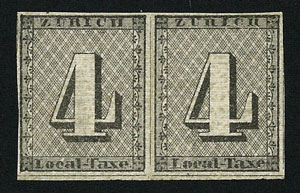 Lot 600
Price Realised:
SFr75,000
In the latter part of the auction, Lot 607 proved to be a prime example of the items you can encounter at Spink. An extraordinary block of four 'Small Eagles', upon a preserved sheet selvage exhibiting a large part of copy, mentioning how to use the adhesives and its corresponding value of franking. The deep luxurious colour, paired with its original gum, makes it a spectacular and unique multiple. Echoed by its equally impactful realised price of SFr48,000.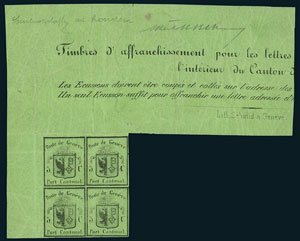 Lot 607
Price Realised:
SFr48,000
ABOUT SPINK
Spink is the world's leading auctioneer of stamps, coins, banknotes, medals, bonds & shares, autographs, books and wine. Since its foundation in 1666, the Spink name has become synonymous with tradition, experience and integrity. Holder of royal warrants and numerous records for prices achieved at auction, Spink offers an unparalleled range of services to collectors worldwide. Spink is headquartered in London and holds over 70 auctions a year around the globe. All catalogues are available on our website and through our Spink App for iPhone and iPad.
For high resolution images please contact;
Ed Rivers
02075634009