Spink is delighted to kick off the 2014 with three whole days of successful Philatelic sales from around the globe.
Two strong collections featured items that attracted bidders old and new, joining us over the phone with many more bidding live online via Spink Live, which continues to attract attention across the globe.
To greet the New Year, Spink began with 'The Award Winning "Medina" Collection of India, Part IV'. This sale is the fourth in the series of sales devoted to the remarkable Medina collection. This particular auction comprises issues from Post-Independence India and features a fine array of essays, proofs and issued stamps with varieties. Most notable was Lot 24. A 15n.p. imperforate miniature sheet of four, inscribed with "1857-1957". This beautiful sheet was never issued, making this proof example completely unique, fetching £1,800 in auction.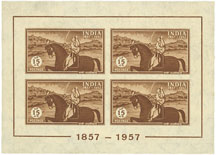 Lot 24
Price Realised:
£1,800
The graphic beauty of Lot 125; a mounted 2r stamp dated 1874-1974, certainly caught the attention of bidders. The scarce stamp was estimated £150-200 under the hammer, but in auction it went for an impressive £2,640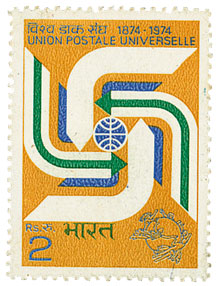 Lot 125
Price Realised:
£2,640
Towards the latter part of the sale, Lot 146 was revealed; a vertical strip of five stamps, commemorating the 150th Anniversary of Franz Schubert's death. The very rare multiple pulled in a remarkable £5,000.

Lot 146
Price Realised:
£5,400
Following in the footsteps of The "Medina" Collection, Spink hosted The Collector's Series. A sale containing over 1800 lots of stamps and postal history.
Following, we have 'The Collector's Series'. This sale contained over 1840 lots of stamps and postal history to be offered over three days, including fine British Commonwealth with exceptional Cape of Good Hope, Ceylon and Gold Coast. It also featured an interesting section of letters to an Officer serving with the British Army during the Crimean War and a fascinating letter written by Florence Nightingale.
A noteworthy moment in this auction was Lot 1745; a 1885-90's artist's original hand painted essay with blank value tablet used for the 2d., 4d. and 1/- values. Also, below and outside the design, there is an enlarged drawing of the Maltese Cross. The delightful article achieved the World Record for an item of Maltese artwork, selling for a ground breaking £38,400.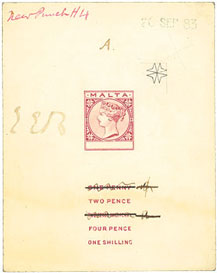 Lot 1745
Price Realised:
£38,400
ABOUT SPINK
Spink is the world's leading auctioneer of stamps, coins, banknotes, medals, bonds & shares, autographs, books and wine. Since its foundation in 1666, the Spink name has become synonymous with tradition, experience and integrity. Holder of royal warrants and numerous records for prices achieved at auction, Spink offers an unparalleled range of services to collectors worldwide. Spink is headquartered in London and holds over 70 auctions a year around the globe. All catalogues are available on our website and through our Spink App for iPhone and iPad.
For high resolution images please contact;
Ed Rivers
02075634009