On the 12th of December, 1300 lots of Great Britain Stamps and Postal History will be going under the hammer at Spink. These include an important and fascinating series of German Propaganda World War II Forgeries of British Stamps.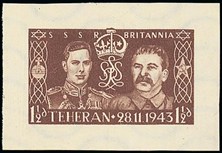 In the above example (Lot 1081), the Queen Mother has been replaced by an image of Stalin.
These remarkable stamps were forged in Sachsenhausen Concentration Camp by specialist printers also forging £5 banknotes with the intention of damaging the British economy.
Next week's sale will also include over 420 Penny Blacks, as well as Lot 502, a Two Pence Blue on an entire letter from Funchal, Madeira, dated 1840 and addressed to Devonshire, cancelled by a Deal Ship Letter postmark. It is a famous cover and a unique usage of the 1840 Two Pence Blue, estimated to fetch between £20,000 and £25,000.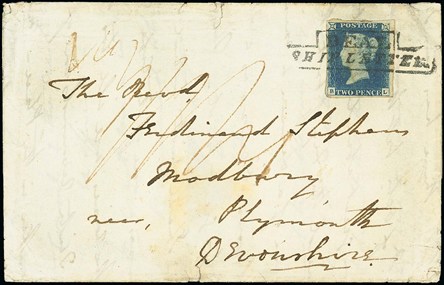 The bearer of this letter, or an agent at Deal, most likely affixed the adhesive to pay the inland postage to Plymouth (2d. for 1oz.) and posted it as an ordinary inland letter. The Post Office may have later recognised it as subject to the Ship Letter charge of 1/4d. per oz. This is the only applicable handstamp with the "deal/ship letter", although it was not intended as a cancellation.
We will also be offering the opportunity to own a 1840 Two Pence Blue, Plate 1, block of six of very fine quality (Lot 517). Blocks of six from either plate with red Maltese Cross cancellations are great rarities, and this particular example is expected to sell for between £35,000 and £40,000.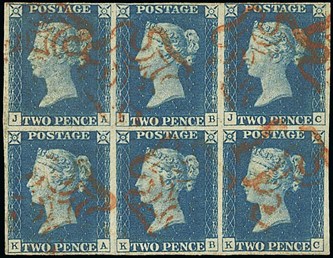 For further press information, please contact: Eleanor Ball, Email: [email protected] or Telephone: +44 (0)20 7563 4009. All images copyright Spink.
Click here for more information on Spink Chairman and CEO Olivier D. Stocker.