Spink's upcoming Collector's Series Sale will include a series of rare and fascinating issues from Olympic Games throughout history. These will go under the hammer on the morning of Wednesday the 13th of November, part of a diverse three-day sale in our London auction room.
Athens has particularly good coverage, beautifully illustrating the immense history of the world's biggest and most influential sporting event.
Lot 1313
1896 Athens, 1L. to 1d., short set of nine, used on cover addressed to Switzerland
Estimate: £1,000 to £1,500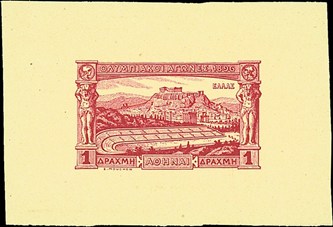 Lot 1319
1896 Athens, 1d. Acropolis and Stadium 1d., imperforate die proof in carmine on thick paper
Estimate: £1,000 to £1,200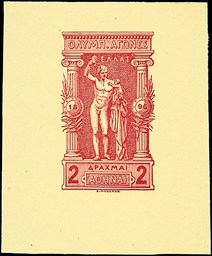 Lot 1321
1896 Athens, 2d. "Hérmes" after the statue by Praxiteles, imperforate die proof in carmine on thick paper
Estimate: £1,000 to £1,200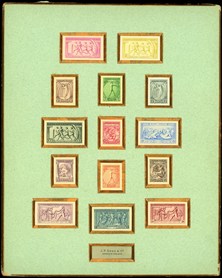 Lot 1333
1906 Athens, J.P. Segg & Co. Presentation card containing the complete set of fourteen Proofs in the issued colours
Estimate: £2,000 to £2,500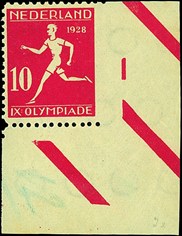 Lot 1371
1928 Amsterdam,10c. (+ 2c.) rose, from the lower right corner of the sheet, variety imperforate at right
Estimate: £300 to £400
Described by Spink stamp specialist Dominic Savastano as "One of the most comprehensive collections of Olympic issues to be offered in the UK for many years", this group from the Beinart Estate is undoubtedly a fascinating one, especially with such recent memories of the unforgettable London Olympics.
The Collector's Series Sale is part of a busy week of stamp auctions at Spink, which will include the "Lionheart" Collection of Great Britain and the British Empire Part II, the Robert Marion Collection of Mauritius Stamps and Postal History, and Postal History and Historical Documents.
For further press information, please contact: Eleanor Ball, Email: [email protected] or Telephone: +44 (0)20 7563 4009. All images copyright Spink.
Click here for more information on Spink Chairman and CEO Olivier D. Stocker