Among the copious treasures of a three-day Collector's Series Sale in London from the 11th to the 13th of November, is a series of magnificent Valentine-themed items from the United States.
Primarily from the 19th century, these 200 or so lots provide an evocative insight into the history of St Valentine's Day in the US. The highlights include envelopes estimated to fetch several thousand.
A high number of US bidders are expected to join us for the auction online via Spink Live. We are also delighted to welcome a number of clients who will be travelling to our London auction room from the States specifically to bid on these rare and beautiful Valentines.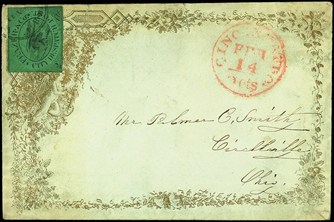 Lot 1768
1847 (c.) attractive gilded Valentine envelope, decorated on both sides
Estimate: £1,500-2,000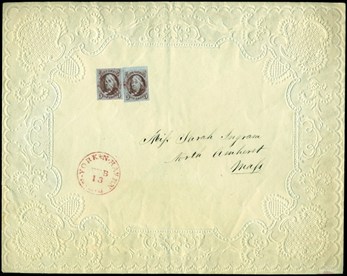 Lot 1779
1850 large "Mansell" paper lace card with applique flowers and accompanying embossed envelope, addressed to North Amherst
Estimate: £3,000-4,000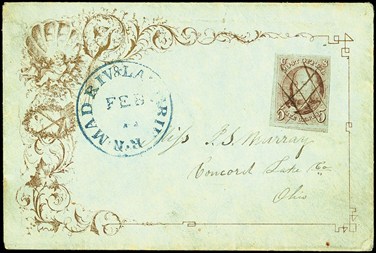 Lot 1783
1850 (c.) gilded envelope to Ohio, franked 1847 5c.
Estimate: £3,000-4,000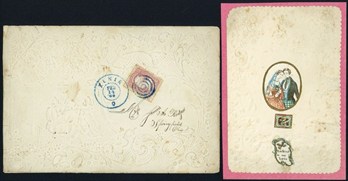 Lot 1829
1865 attractive embossed envelope addressed to Springfield Ohio, franked 1862-66 3c., fine and scarce usage from the Civil War period
Estimate: £100-120
Described by Spink stamp specialist Ian Shapiro as "undoubtedly one of the most significant collections to come onto the market in decades", the American Valentines will go under the hammer on Wednesday the 13th of November.
For further press information, please contact: Eleanor Ball, Email: [email protected] or Telephone: +44 (0)20 7563 4009. All images copyright Spink.
Click here for more information on Spink Chairman and CEO Olivier D. Stocker