Spink is proud to present the collection of Union of South African stamps accumulated by the late J.B. Bloom, to be auctioned on 24 October 2013. It is a remarkable collection, the result of many treasured years, and contains some of the rarest South African stamps on the market today.
J.B. Bloom, a pharmacist born in South Africa, embarked upon a fruitful interest in philately from an early age, and in 1983 was awarded a gold medal at a philatelic exhibition in Durban (Natal). He has mentored new generations of South Africa collectors and has contributed enormously to the hobby, as demonstrated by the highlights of the upcoming sale.

Lot 2003
1910 Opening of the Union Parliament, Die Proof
Estimate: £700-800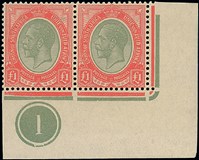 Lot 2041
1913-24 King's Head Issue, £1
Estimate: £1,200-1,500

Lot 2072
1926-27 Typograph Issue, London Print, ½d.
Estimate: £12,000-15,000

Lot 2194
1963 Red Cross Centenary, 12½c.
Estimate: £1,200-1,500

Lot 2195
1963 Transkei Legislative Assembly, 12½c.
Estimate: £1,200-1,500
The J.B. Bloom Collection of South Africa is one of four stamp auctions at Spink next week, including Stamps of Bermuda, Important British Empire Revenue Stamps, and the "Medina" collection of India Part III.
For further press information, please contact: Eleanor Ball, Email: [email protected] or Telephone: +44 (0)20 7563 4009. All images copyright Spink.
Click here for more information on Spink Chairman and CEO Olivier D. Stocker