On the 23rd of October, Spink will be offering a unique opportunity to acquire important revenues, essays, proofs, issued stamps and documents from selected British Empire countries including Ceylon, East Africa and Sierra Leone.
Highlights include possibly the greatest gem of Revenue philately - a unique £100 Kenya and Uganda 1922-27 block of four, estimated at £8,000-10,000.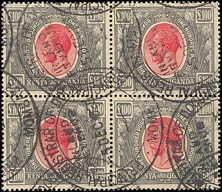 Above: Lot 1623

Also on offer is a very rare 1937 issue from Kenya, the largest recorded multiple of its kind.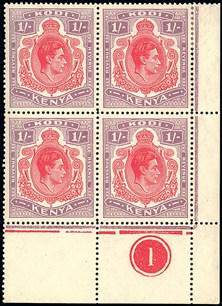 Above: Lot 1637
Estimate: £1,200-1,500
Among the 1928 King George VI Issues from Ceylon is a rare 1000r specimen, the only recorded example.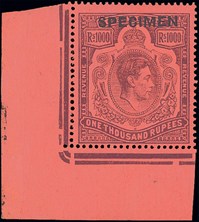 Above: Lot 1540
Estimate: £800-1,000
Also included is a delightful hand-painted essay from 1884, Sierra Leone.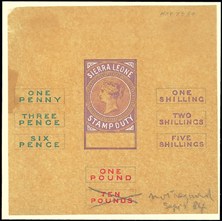 Above: Lot 1728
Estimate: £1,000-1,200
With a range of important and striking items on offer, Wednesday's sale has a significant part to play in what will be an eventful week for stamps at Spink, with other sales including Stamps of Bermuda, the "Medina" Collection Part III, and South African Stamps.
For further press information, please contact: Eleanor Ball, Email: [email protected] or Telephone: +44 (0)20 7563 4009. All images copyright Spink.
Click here for more information on Spink Chairman and CEO Olivier D. Stocker