On 23 October 2013, Spink will be offering the third in a series of auctions for this remarkable holding of India.
The sale will commence with a good group of the 1852 Scinde Dawk issue with all three colours represented. The 1854 issue includes a wonderful 9½ arches ½a. essay corner block of ten.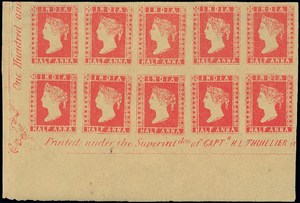 Lot 1016
1854, Half Anna 9½ Arches Essay
Estimate: £24,000-26,000
Not an opportunity to be missed, the above is believed to be the largest remaining block in this shade.
A good array of the issued stamps including unused multiples and covers is also included, and there will be some very attractive Edward VII and George V essays on offer, together with a range of die proofs.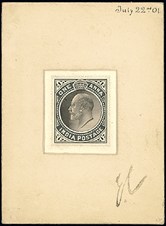 Lot 1064
1902-11, King Edward VII, issue
Estimate: £2,500-3,000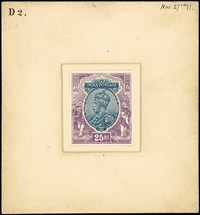 Lot 1102
1911-33, King George V, definitive issue
Estimate: £7,000-8,000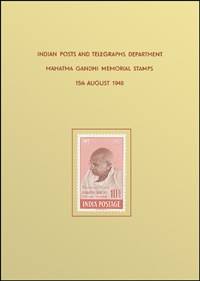 Lot 1139
King George VI, 1948 First Anniversary of Independence Gandhi Issue
Estimate: £15,000-18,000
There is another wonderful group of the ever popular 1911 Allahabad airmail light covers and the sale concludes with some Campaign covers and a selection of Used Abroad including a very rare 1857 cover from the Persian Field Force franked at 1a.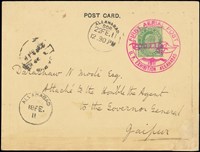 Lot 1149
1911 Allahabad First Aerial Post by Henri Péquet
Estimate: £1,500-1,800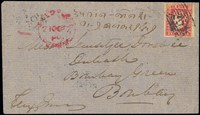 Lot 1223
1857 envelope to the Naval Dubash at Bombay
Estimate: £7,000-9,000
Speaking of the sale, stamp specialist David Parsons said "we are delighted to offer Part III of the extraordinary Medina Collection of India, which we are sure will be as well-received as Parts I and II."
The first two parts of the Medina series achieved very high results, including £70,000 for the 1854 Inverted Head Four Annas of India, one of the most sought after stamps of 19th century philately. Part IV of this award-winning collection is planned for January 2014.
Next Wednesday's sale will be followed by Important British Empire Revenue Stamps in the afternoon.
For further press information, please contact: Eleanor Ball, Email: [email protected] or Telephone: +44 (0)20 7563 4009. All images copyright Spink.
Click here for more information on Spink Chairman and CEO Olivier D. Stocker